If you're among the shrinking minority of Americans who pay Federal income taxes, pat yourself on the back because you've already helped with Hurricane Ian relief. You're one of the folks who funds the Federal Emergency Management Agency (FEMA; $28.7 billion budget for FY 2020). Congress already appropriated the money. Wikipedia says
The governor of the state in which the disaster occurs must declare a state of emergency and formally request from the President that FEMA and the federal government respond to the disaster.
That's already happened. So now some of this already-paid-by-you and already-appropriated-by-Congress money will be spent to address the damage caused by Hurricane Ian.
Suppose that you want to do more. My favorite way to help a place that has suffered is to buy stuff from or in that place. After the 2011 earthquake and tsunami in Japan, for example, I bought a bunch of Japanese-made products, including Shun knives. SW Florida isn't renowned for manufacturing, but you could plan a vacation there! Marco Island is pretty awesome and the monster concrete hotels should be fine after the power is restored. Even if you visit the theme parks in Orlando you will be helping keep the state's economy vibrant.
Don't need to learn sexual orientation and gender identity at Disney World or be frightened to death at Universal? You can donate money. But to whom? Charlie Crist, the Democrat who says that he will deliver Floridians from fascism, and Ron DeSantis, the hated fascist himself (he and Giorgia Meloni will get together and shave each other's heads, get scalp tattoos, and burn synagogues?), agree that the best place for donating money is the Florida Disaster Fund, run by VolunteerFlorida. This enterprise earns a 100/100 rating from Charity Navigator (compare to 89 for the American Red Cross):

The default is a modest $10. Casey DeSantis explains at about 18:30 into the video below that more than $10 million has been raised. Some of the cited big donors: Amazon, Walmart, Publix, Florida Power & Light, the PGA Tour. The credit card fees are being waived when you donate so nearly all of the money should go to work.
One caveat is that you don't get public credit, even your name on a list of donors, if you donate a modest amount. You get a web page thank-you: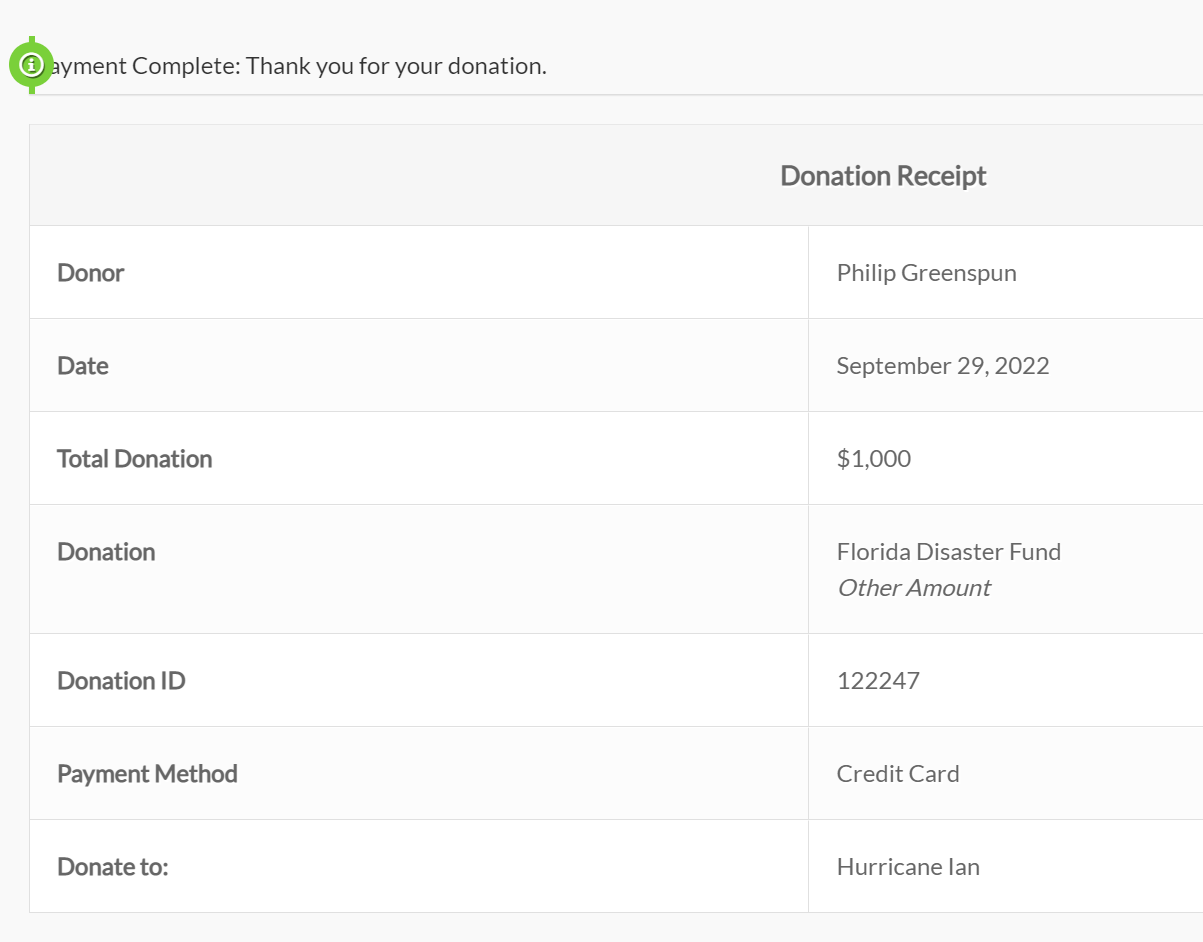 So unless you can brag on Facebook or Twitter or a personal blog, giving will have to be its own reward. If you're a Democrat make sure to take a screen capture of this because you won't want to keep the email acknowledgment and there is some chance that your itemized deductions will be more than the generous Trump-established standard deduction. Alternatively, you could be like Elvis Presley and not try to write off the deduction "because it takes away from the spirit of the gift."
Why would Democrats not welcome the email acknowledgment of the gift? "Your donation plays a key role in supporting Governor DeSantis' initiatives…"