Americans generally affirmed the idea that the country will be better with bigger government and higher taxes. Whether this is true or false, Florida's prosperity primarily depends on the differential between Florida and other states, not the absolute quality of life in Florida. It is a bit like the ancient story of two non-binary campers:
Kendall and Arden are camping when a thin-looking brown bear approaches they/them and them/they, growling.

Kendall starts putting on their running shoes.

Arden says, "What are you doing? We don't need to bring in Ketanji's panel of biologists to know that, regardless of your pronouns, you can't outrun a bear!"

Kendall says, "I don't have to outrun the bear—I just have to outrun you!"
"The Flight of New York City's Wealthy Was a Once-in-a-Century Shock" (NYT) did not happen because Florida v2020 and v2021 was better than Florida v2019, but because NYC v2020/2021 was so much worse than NYC v2019.
State governments became vastly more powerful in 2020, e.g., deciding whether residents of a state would be able to leave their homes, send children to school, work for a living, avoid the injection of their children with an experimental medicine designed to help 80-year-olds. An interstate move to switch overlords is therefore much more likely than when the state-to-state difference was a few dollars in tax.
Democrats kept control of New York State. Kathy Hochul would need to order a lockdown or two in order match what Florida Realtor of the Year 2020 Andrew Cuomo achieved, but her victory is an important precondition in keeping people who value liberty pointed south on Interstate 95 to their new homes in the Florida Free State (TM). I also appreciate her teaching young Puerto Ricans that rules established by elites may not apply to elites…
Massachusetts elected a Lockdown Democrat governor and passed a new higher tax rate on those who are rich enough to afford Florida waterfront (see Why did 1 million poor people vote against a higher tax rate for rich people in Massachusetts?). That should be great for residents of Palm Beach County. Even a handful of families moving into $20-100 million houses down here provide a big boost in revenue.
Colorado moved away from its flat tax by limiting deductions for those earning more than $300,000 per year. That's not a huge nudge toward Florida, but it is a nudge. San Francisco added a tax on condos owned by rich people who leave them vacant for 183 days per year or more (53/47 vote; a mystery that it could have been that close given that hardly any voters own a condo that would be subject to this tax).
The governor's race in Texas was the biggest disappointment for realtors in Florida. A Beto victory carried with it the prospect of rich Californians choosing Florida rather than Texas as their escape-from-Newsom destination. The silver living is that Greg Abbott's victory was only 55/44 (compare to 56/42 in 2018 and 59/39 in 2014). Given the propensity of today's young people to support progressive politics and the overall national trend towards bigger government, it seems likely that Texas will eventually be governed by Democrats, a huge boost to Florida's chances of capturing fleeing successful Californians. Maybe Texas is safe from California-style government today, but people who go to the effort of moving are also interested in what a state will be like in 10-20 years.
An exchange on Facebook with one of those successful Californias who praised a college that doesn't discriminate on the basis of skin color:
I wish my own kids were brave, and principled, and original thinking enough to consider applying instead of conforming to conventional wisdom and stupid rankings. I'll keep trying to teach them.

But your kids have watched you conform. California politicians took away your liberties one by one starting in March 2020 and you simply stayed in California, right? And, in fact, your kids watch you pay taxes to fund all of it.

I have 2 kids I can't move away from [California family law gave his wife millions of reason to sue him…]. But in 2 years when #2 goes to college I'll have a lot more altitude to go elsewhere. FL is too far away and TX is too close to purple. UT is the current front runner.
The guy believes that Texas is just a few young voters away from Following the Science into lockdowns, mask orders, vaccine papers checks, etc., and maybe a new personal income tax to pay for it all! (Beto promised to use Science to protect Texans from viral threats. In fairness, so did Abbott, but he interpreted Science's whispers differently.)
There was great news in Michigan. Lockdown Democrat Gretchen Whitmer was reelected 54/44, a clear indication that nothing is going to change in Michigan. People who don't love the government there should move away. Wisconsin (a paradise for child support profiteers) similar reelected a Democrat governor. Pennsylvania is a great source of new residents with money for Florida. A Democrat won there by a large margin (56/42). Again, people who don't want to be ruled by Democrats have only one realistic option: move. And once the decision to move is made, Florida is there and ready with jobs, low taxes, all-year outdoor recreation, etc.
Maine and Kansas also reelected Democrats as governors.
A Democrat victory at the Federal level should drive additional moves to Florida. A person who wants his/her/zir/their state to resist new takeovers of power by Washington, D.C. will find that in Florida, the state in which Joe Biden's order that travelers wear masks on airplanes was found unconstitutional. A person who wants to maintain his/her/zir/their spending power in the face of Federal income tax rate increases can probably do so by moving from a medium-to-high-tax state to a state with no personal income tax and some reasonable assurance that the electorate won't amend the constitution to impose one. That's Florida, Wyoming, South Dakota, and Tennessee? New Hampshire actually does have an income tax (not on wages, but on dividends and interest). Texas is at risk over time of having everything that California has (see above).
What about politics here in Florida? First, the election results were available on the timeline that taxpayers expected:
(Hurricane Nicole arrived on the SE coast roughly 24 hours after the polls closed.)
The stealth scheme to raise pay for the Praetorian Guard (see Florida comes up with a scheme for increasing taxes on private workers via a property tax exemption for government workers) was approved by a majority of voters, but not above the 60 percent threshold necessary to amend the Florida constitution. Voters here in majority-Democrat Palm Beach County approved $200 million in borrowing to fund "workforce housing". Americans everywhere believe "when the market gives you an answer you don't like, declare market failure". There are approximately 1.5 million people in Palm Beach County. How $200 million, the price of a couple of teardown houses in Palm Beach itself, is going to change the affordability of housing for the average person here is unclear. It looks like it will at least make a huge difference for some government cronies. From a "quick summary":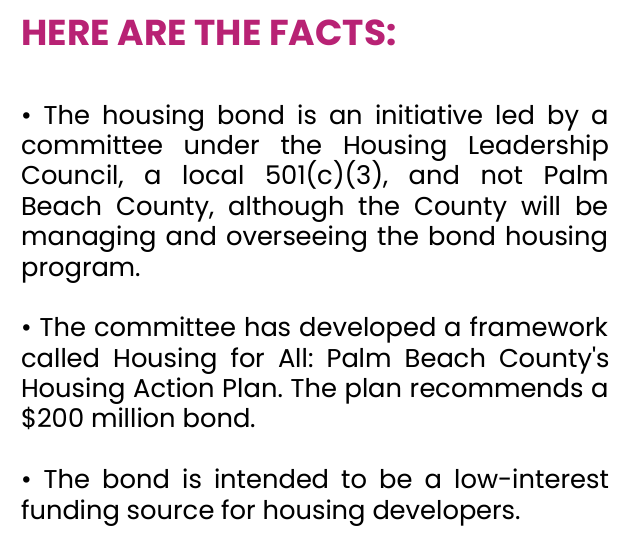 Some non-profit and government workers will get paid. Some favored developers will get rich off the spread between the market rate for interest and this slush fund.

If the typical unit holds 2 people, that's 2,200 people who are being housed after 16 years of government and non-profit employees being paid. That's roughly 0.15% of the people who live in Palm Beach County (1 out of every 700).
Which of the 1 in 700 people in Palm Beach County gets to live a subsidized life?

In other words, anyone whom the non-profit folks think is deserving!
Even in majority-Democrat Palm Beach County, the all-abortion-care-all-the-time Democrat running against the Tyrant of Tallahassee could not prevail. Ron DeSantis won by 51/48 here in the county (compare to 60/40 statewide).