A Facebook friend posted "The Israel We Knew Is Gone" (Thomas Friedman, NYT, Nov 4, 2022):
Imagine you woke up after the 2024 U.S. presidential election and found that Donald Trump had been re-elected and chose … Marjorie Taylor Greene for the White House spokeswoman.

"Impossible," you would say. Well, think again.

… the national unity government that came to power in Israel in June 2021 … has now collapsed and is being replaced by the most far-far-right coalition in Israel's history. …

The coalition that Likud leader Bibi Netanyahu is riding back into power is the Israeli equivalent of the nightmare U.S. cabinet I imagined above.

Netanyahu has been propelled into power by bedfellows who: see Israeli Arab citizens as a fifth column who can't be trusted; have vowed to take political control over judicial appointments; believe that Jewish settlements must be expanded so there is not an inch left anywhere in the West Bank for a Palestinian state; want to enact judicial changes that could freeze Netanyahu's ongoing corruption trial; and express contempt for Israel's long and strong embrace of L.G.B.T.Q. rights.
Obviously it would be a nightmare to live in a world where Marjorie Taylor Greene was permitted to spew misinformation such as "COVID-19 vaccines do not prevent infection or transmission" and where there was a room that did not display a rainbow flag. So I didn't argue with Friedman's brilliant thesis. My comment was that it could be dangerous to take advice form those who don't have skin in the game:
Having made the prudent decision to marry the daughter of a billionaire, Friedman doesn't need Israel. He can continue living in his massive Bethesda mansion (while telling others to emit less C02) and, if the US becomes uncomfortable for Jews, buy citizenship in almost any country worldwide. Israel exists as a refuge for Jews who aren't billionaires.

That Friedman is a billionaire (via marriage) matters because he is immune to any consequences that might ensue from people following his recommendations. The article you've referenced is mostly about Jewish-Arab relations and management of the war declared by the Arabs in 1948 that has never been settled. Should the Palestinians achieve their war goals, Israel will cease to exist. This will have a significant impact on Jewish Israelis who voted for a candidate that Thomas Friedman does not like. The end of Israel would have a big impact on low- and middle-income Jews worldwide who are in countries with populations that become anti-Jewish. It will have no impact on Thomas Friedman. Even if the entire U.S. were to adopt the Nuremberg Laws, Friedman would face no consequence more serious than picking a new country in which to live.

See also Eric Schmidt, who has offered various ideas for U.S. politics. If these ideas prove disastrous, he can get on a private jet and go anywhere in the EU. (Cyprus passport)
The Friedman admirer and his friend:
I don't care about Friedman's personal life. I do care about having a refuge for Jews. The more Israel becomes a far-right settler theocracy, the more it will turn away anyone who the Rabbinate judges to be not Jewish enough.

even today, religious Jews who are not orthodox might find Israel less pleasant of a refuge than they might hope. If the new government continues this trend, it might become even less pleasant.
Me:
I am not saying that Friedman is wrong or that Israelis who voted for Netanyahu are right. Only that people who don't live in Israel and who are so rich that there is no situation in which they would ever need to live in Israel are likely to advocate higher risk strategies than those for whom the elimination of Israel would have severe personal consequences. It's the same tension with venture capital-backed companies. The founders have a portfolio of just one company so it doesn't make sense for them to do things that put the company at risk. The VCs have a portfolio of 100 companies and need to "swing for the fences". So the VCs will support bet-the-company risks that don't make sense for the founders and other employees. Friedman is like an outsider VC with respect to Israel.

Look at Twitter right now. Outsiders with big portfolios are now the owners. The insiders made only incremental changes and never had a dramatic loss in ad revenue. The outsiders are doing a massive restart that will either kill the company or enable it to be highly profitable. If Twitter dies, the consequences for workers will be much more severe than the consequences for the diversified investors who now own it.
The Friedman fans and Netanyahu-haters had some persuasive arguments that this new Israeli government will not be an improvement, but those aren't relevant to the main point of this post, which is how it prompted some thinking about the differences between elite and non-elite thinking.
Friedman is an elite who spends all of his time with other elites so, from his point of view, a country is its elites. He opens by saying that the U.S. would be a completely different country if Donald Trump were back in the White House and people could once again read tweets from Marjorie Taylor Greene. Friedman starts from the assumption that what the 9 million-ish non-elite people who live in Israel do is far less important than what a handful of elites at the head of the Israeli government are doing. So a changing of the elites completely changes the country. I disagree with this assumption. For an Israeli who actually leaves his/her/zir/their house and interacts with other Israelis, what determines quality of life is the quality of these social encounters. The overwhelming number of these encounters will not be with elites.

Maybe the reason that the elites are so concerned about climate change and viral epidemics is that they are immune to almost everything else. A member of the elite can get into a private jet and escape any problem that is limited to a continent or two: crime, war, unsightly poverty, civil unrest, political strife, etc. But if the Earth turns into Venus, the Boeing Business Jet isn't of much use. Respiratory viruses take out even people with unlimited access to medicine. If you're not elite, you might say that climate change is your #30 risk (requiring a move to a new apartment or city) and COVID is your #40 risk (way behind kids not doing well in school, some other disease that causes disability, crime, boredom and mental health issues, being sued for divorce (happens to the elite as well, but they can be re-partnered, if desired, within days, and half of $10 billion is still a lot of money), etc.).
It is the sentence in bold that is the subject of this post. This is probably obvious to everyone else, but I don't remember thinking it before. The correlation between being elite and being alarmed regarding climate change isn't perfect, but it is strong enough that Nobel physics laureate Ivar Giaever is never going to be invited to speak at Davos. Elites have been in the forefront of COVID alarmism as well (leading via laptops from their suburban fortresses to which supplies were delivered by essential immigrants from Latinx America).
Tying together the elites and the "LGBTQ rights" (not 2SLGBTQQIA+) that Thomas Friedman mentioned, some rainbow wine in waterfront back yard (Walgreens here in Florida did not get the "Don't Say Gay" memo, apparently):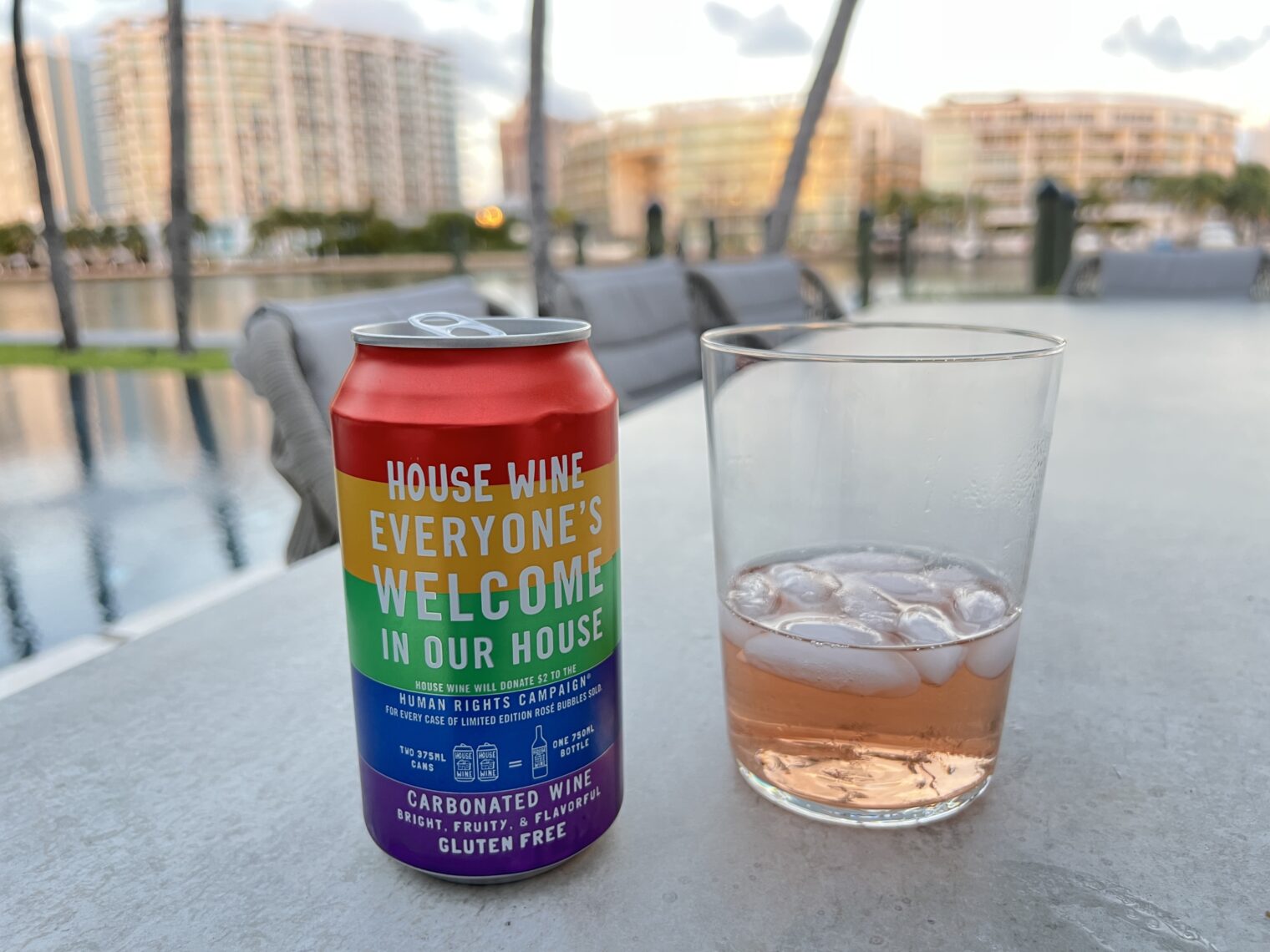 ("Everyone's Welcome in Our House"? What about Kanye West, J.K. Rowling, the January 6 insurrectionists, Marjorie Taylor Greene, and other Deplorables? Are they welcome?)