Our lab director at MIT went to Davos back in the 1990s and then worked it into every conversation for the next 12 months. If you said "pass the salt please" he would respond "That reminds me of when Bill Gates asked me to pass him the salt at Davos."
What's going on this year? The billionaire CEO of Moderna give us his opinion of the peasants who funded his elite lifestyle with their tax dollars:
Let's see how the World Economic Forum, which concludes today, is covered in the New York Times. Donald Trump, Greta Thunberg, and Climate Change are the stars (Trump featured twice!):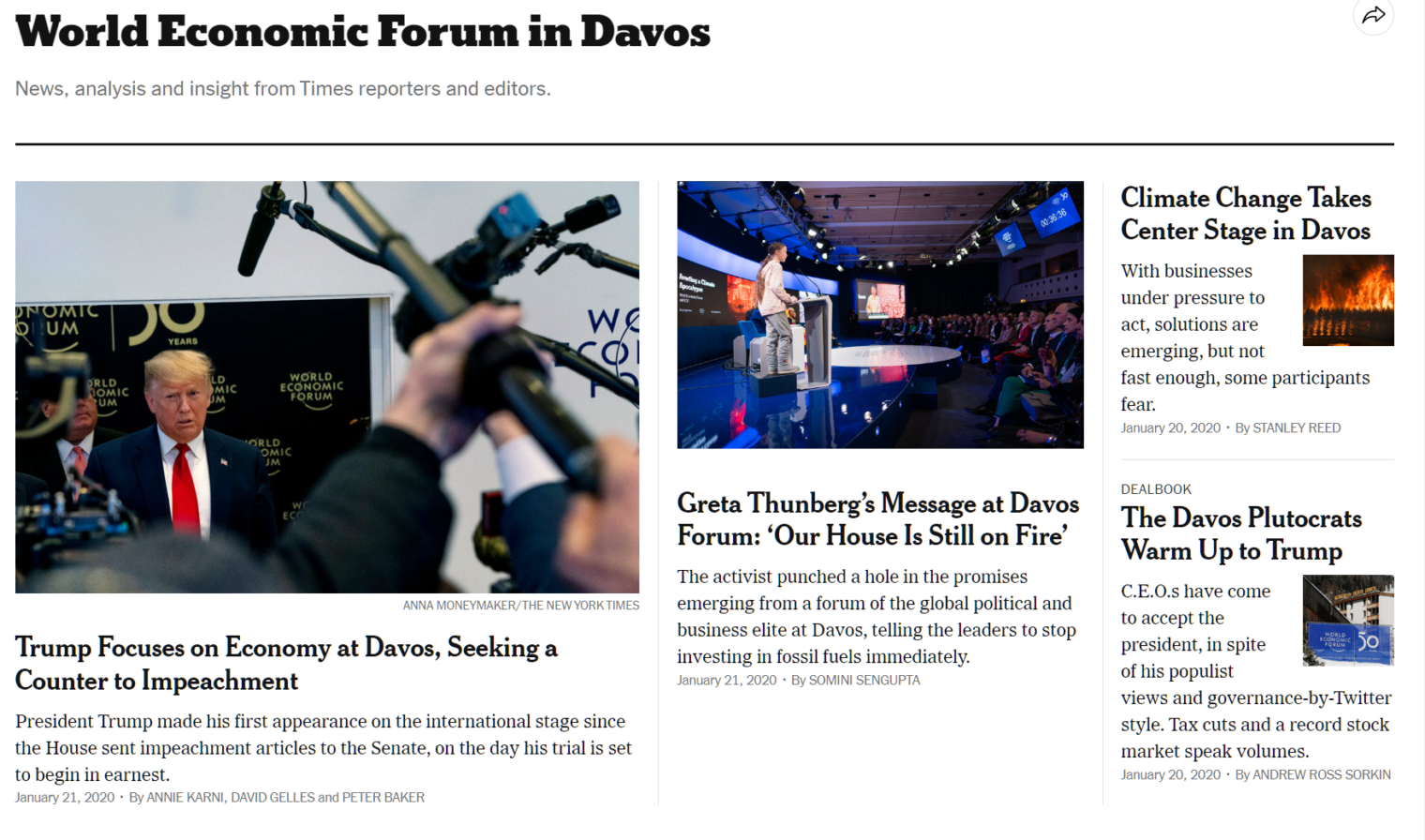 For some reason, all of the articles on this page are from 2020 (SARS-CoV-2 thanked these elites for gathering/dispersing in January 2020, no doubt!). From this week's Gulfstream-enabled event in Davos, "As Humanitarian Crises Escalate, So Do Demands to End Them":
David Miliband, head of the International Rescue Committee, says the global refugee crisis "is manageable, not insoluble."

The group, whose founding was precipitated in the 1930s by Albert Einstein, a refugee himself, deploys more than 40,000 staff members and volunteers in 40 countries.

[the refugee crisis] is, right now, concentrated in relatively few countries. It's about a hundred million people. The number has more or less tripled in the last decade. If you listened to some media, you'd think that Western Europe or Britain or America host most refugees. They don't. Most are in countries like Lebanon or Jordan or Turkey or Bangladesh or Uganda.

But it can be managed. The refugee crisis is one of the global risks, alongside climate and health pandemics, that have been monstrously undermanaged and mismanaged in this phase of globalization these past 20 years.

My message to the people going to Davos is that if they are to continue to reap the benefits of globalization, they have to be willing to bear the burdens of globalization. The "burdens" refer to those who make the rules for how the world deals with the transnational needs that arise in a connected world.

What has caused the number of refugees to triple in the last 20 years?

Well, we know the answer to that. Civil wars. They represent 80 percent of the driver of humanitarian need. Second, the climate crisis, which for many people is a contributor to conflict and the flight of people. But the fundamental reason we have more refugees is that we've had more, longer and more virulent civil wars around the world
Once all of the folks who fought civil wars against each other have migrated to Europe and the U.S. they will be content and will stop fighting?
Let's turn to the Daily Mail… "Prostitutes gather in Davos for annual meeting of global elite – where demand for sexual services rockets during economic summit":
One sex worker named Liana said she dresses in business attire so she doesn't stand out among the executives, despite prostitution being legal in Switzerland.

She told Bild she regularly sees an American who visits Switzerland multiple times a year and is among the 2,700 conference attendees.

Liana charges around €700 ($760) for an hour and €2,300 ($2,500) for the whole night, plus travel expenses.

The manager of one escort service in Aargau, 100 miles away from the summit, says she has already received 11 bookings and 25 inquiries – and expects many more to follow this week.

She told 20 Minuten: 'Some also book escorts for themselves and their employees to party in the hotel suite.'

In 2020, an investigation by The Times found at least 100 prostitutes travel to Davos for the summit according to a Swiss police officer.
(Fact check: Wikipedia says "Prostitution in Switzerland is legal and regulated; it has been legal since 1942.")
Are these journalists going to the same event?
Readers: What's been interesting to you regarding the World Economic Forum/Davos 2023? Can you please use the comment section to post your favorite video clips of people talking there? The defrosted Al Gore, for example.
Related: