Royal Caribbean's Liberty of the Seas does a Friday-Monday cruise from Fort Lauderdale to the Bahamas, which is a good introduction to the cruise lifestyle for kids who are in school in South Florida. The ship leaves at 4:30 pm on Friday, so they might have to leave school early on Friday.
Liberty of the Seas was the world's largest passenger ship when completed in Finland in 2007, but of course it has been dramatically surpassed since then. Still, it is big enough to make staying on board interesting for first-time cruisers.
The itinerary is weak, stopping at Nassau and then Royal Caribbean's private Coco Cay island (one day each). The price is essentially free if you don't need a pimped-out room, about $100 per day per adult including 3-6 meals, entertainment, and urgent medical care at a reasonable price (maybe Americans who don't want to wait 3 months for an appointment with a primary care doc should jump on a last-minute cruise?). Kids were free. Because of the reasonable price and weekend schedule, there is a truly diverse mix of passengers. A suburban Boston laptop class member would interact with more Black people on this one cruise, for example, than in five years of living, dining out, and going to events in Boston.
We were directed to park at the Heron Garage, not the Palm Garage right next to where the boat was docked. Shuttle buses were required to get between the parking lot and the ship. Next time: Palm Garage! It took about 15 minutes to get through security and check in (photos taken of each passenger). There is theoretically a "wellness check" required to get on, but apparently being able to stand and breathe was sufficient because we were not asked any questions.
The scale of the ship is epic: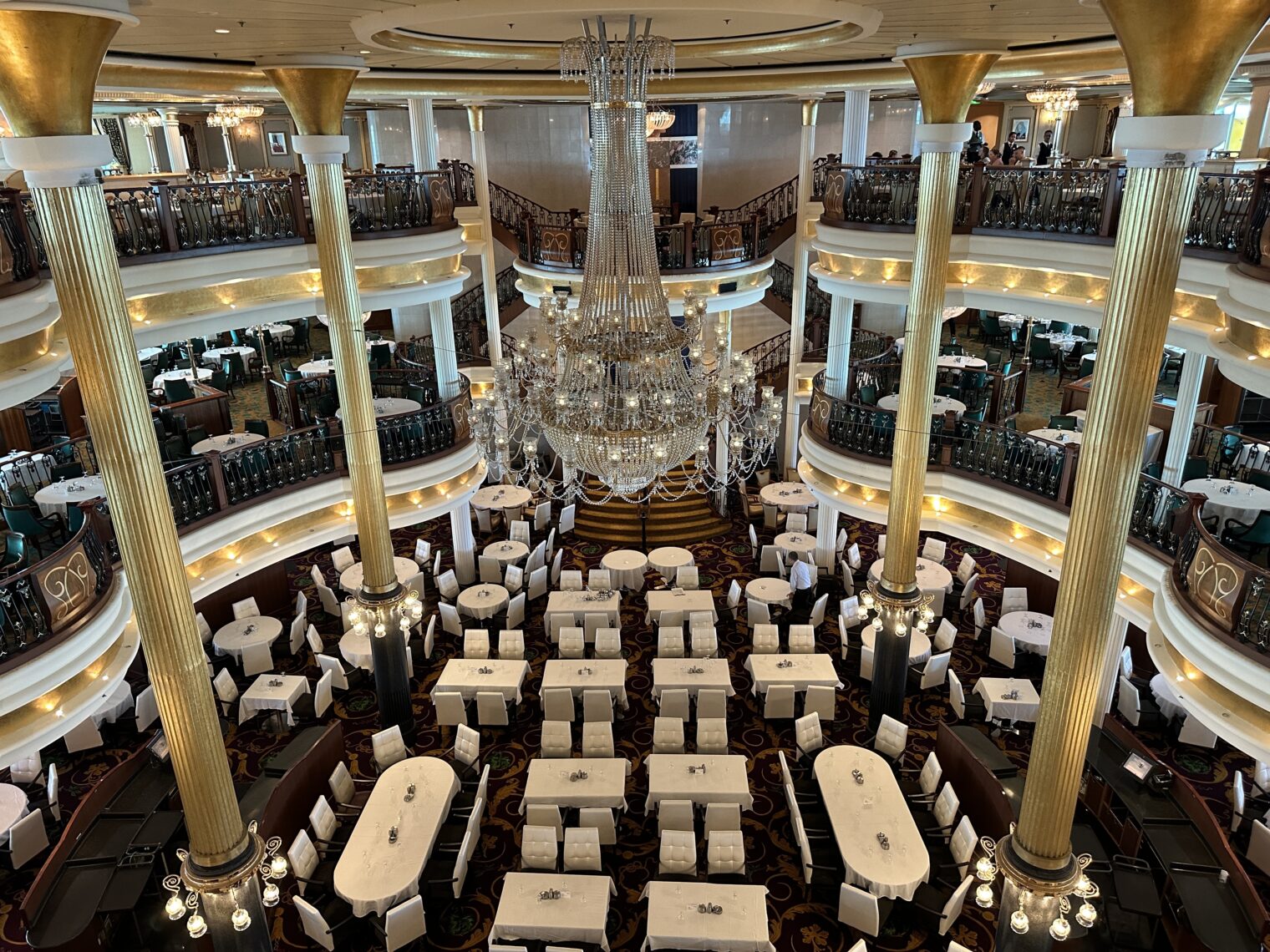 We paid extra for a "key" that would entitle us to Internet connectivity for one device, a steak lunch on board before sailing, priority seating at the shows, and priority departure at tender ports (of which there are hardly any for Royal Caribbean!). We bought it because we thought it would help us escape early on Monday morning and get the kids to school, but it turned out to be unnecessary. Anyone who doesn't need help with luggage can walk off as soon as the boat is fully parked/cleared. Also, it was never difficult to get a good seat at any of the shows. There are, apparently, so many other activities on the ship that people aren't desperate to sit in a theater.
One of the big attractions for Royal Caribbean ships is a $1 million Flowrider surfing machine on the deck at the stern. People were using it even before we had cast off: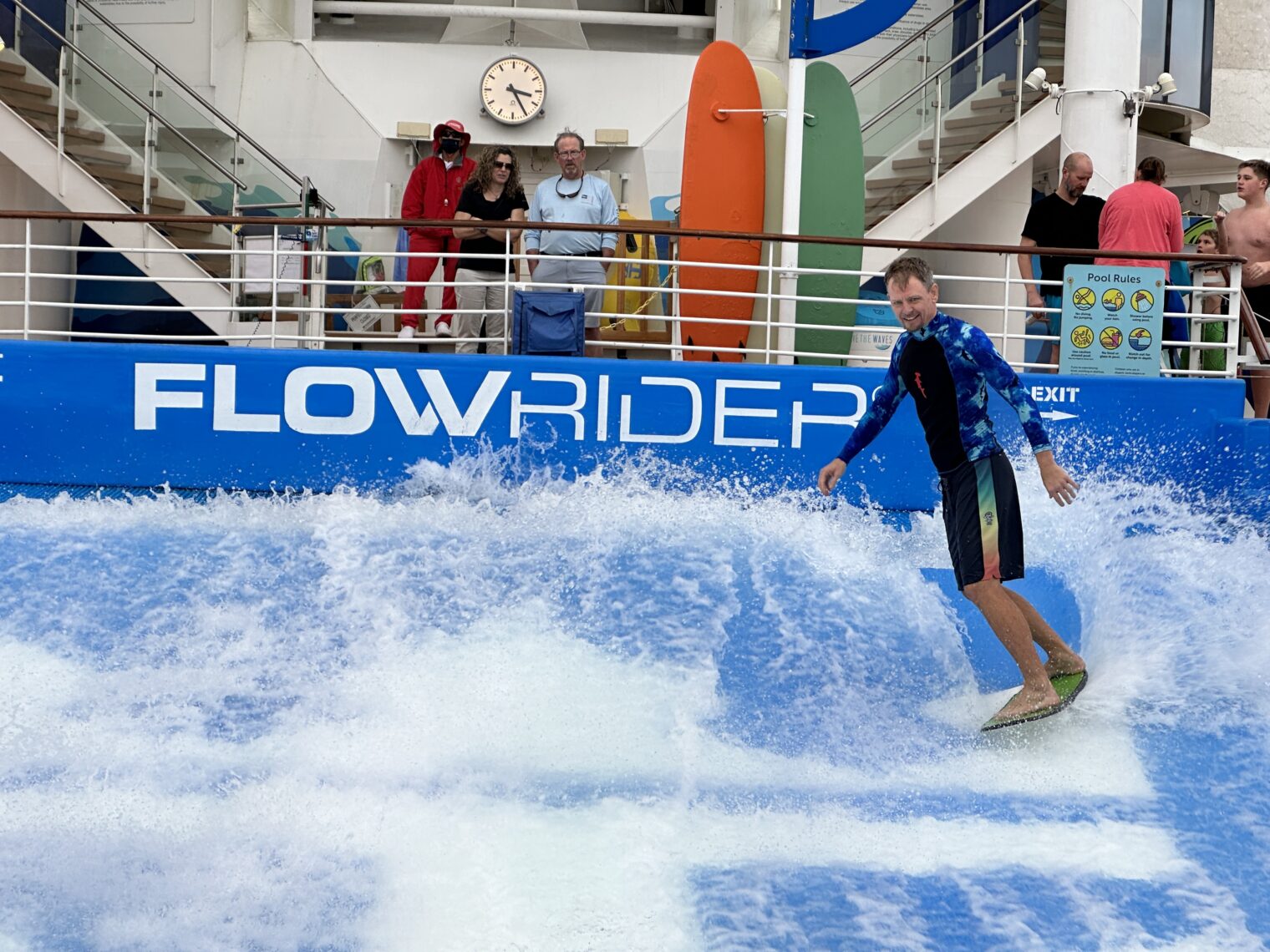 Go to Deck 4 and then up to the stairs at the bow to enjoy sailing away from Port Everglades (FLL):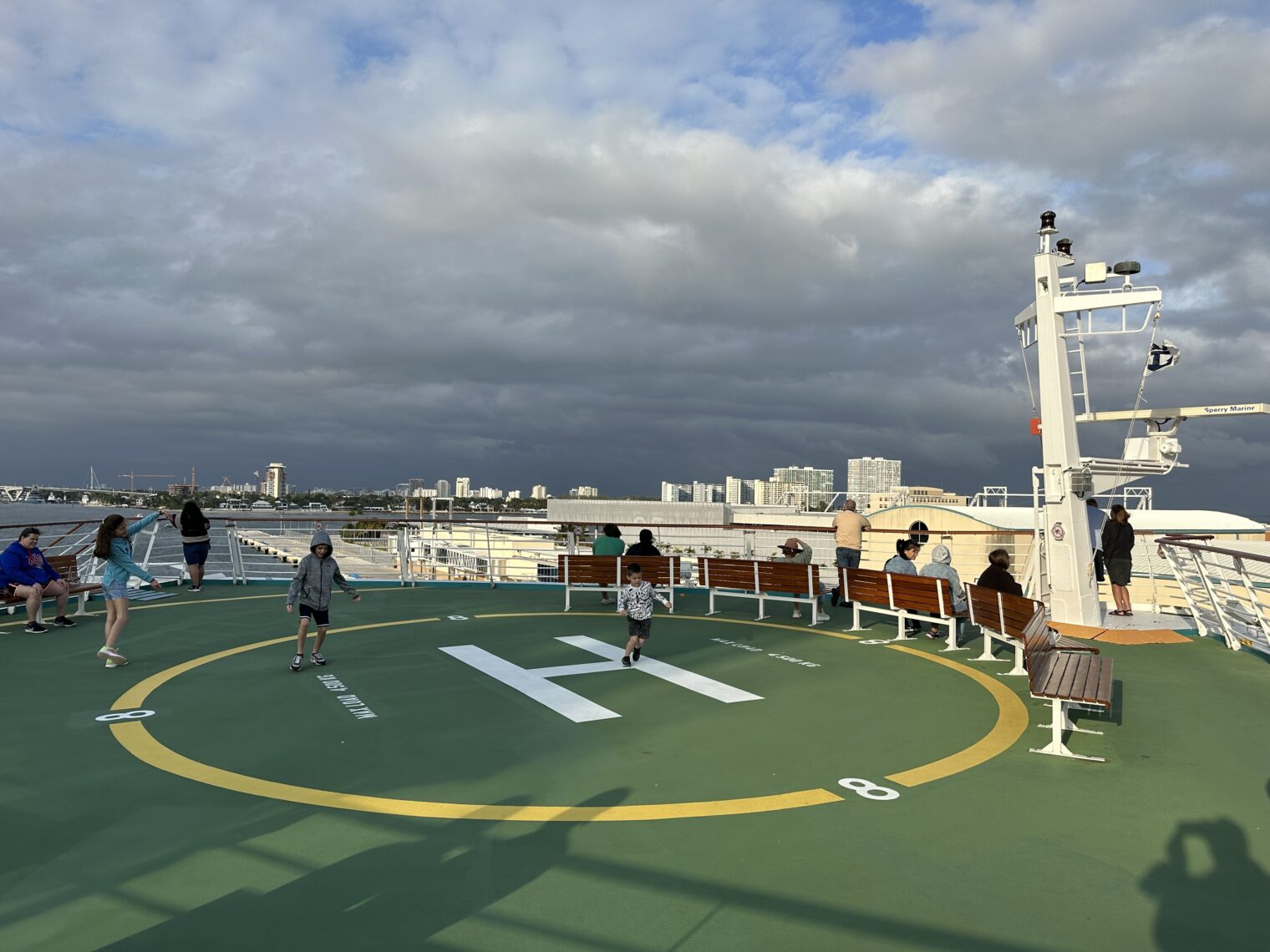 The crew puts on a fun parade for the kids in the huge main shopping mall:
They've upgraded their coffee, but still can't make donuts competently. The staff everywhere, including at the buffet restaurant, is very friendly. The dedicated avocado toast chef:
Or would you prefer Indian food for breakfast?
From the mini golf course on the top deck we were able to watch Brilliance of the Seas come into Nassau. She holds 2,500 passengers and is twice the gross tonnage of Titanic. She looks like a tender for the Liberty of the Seas.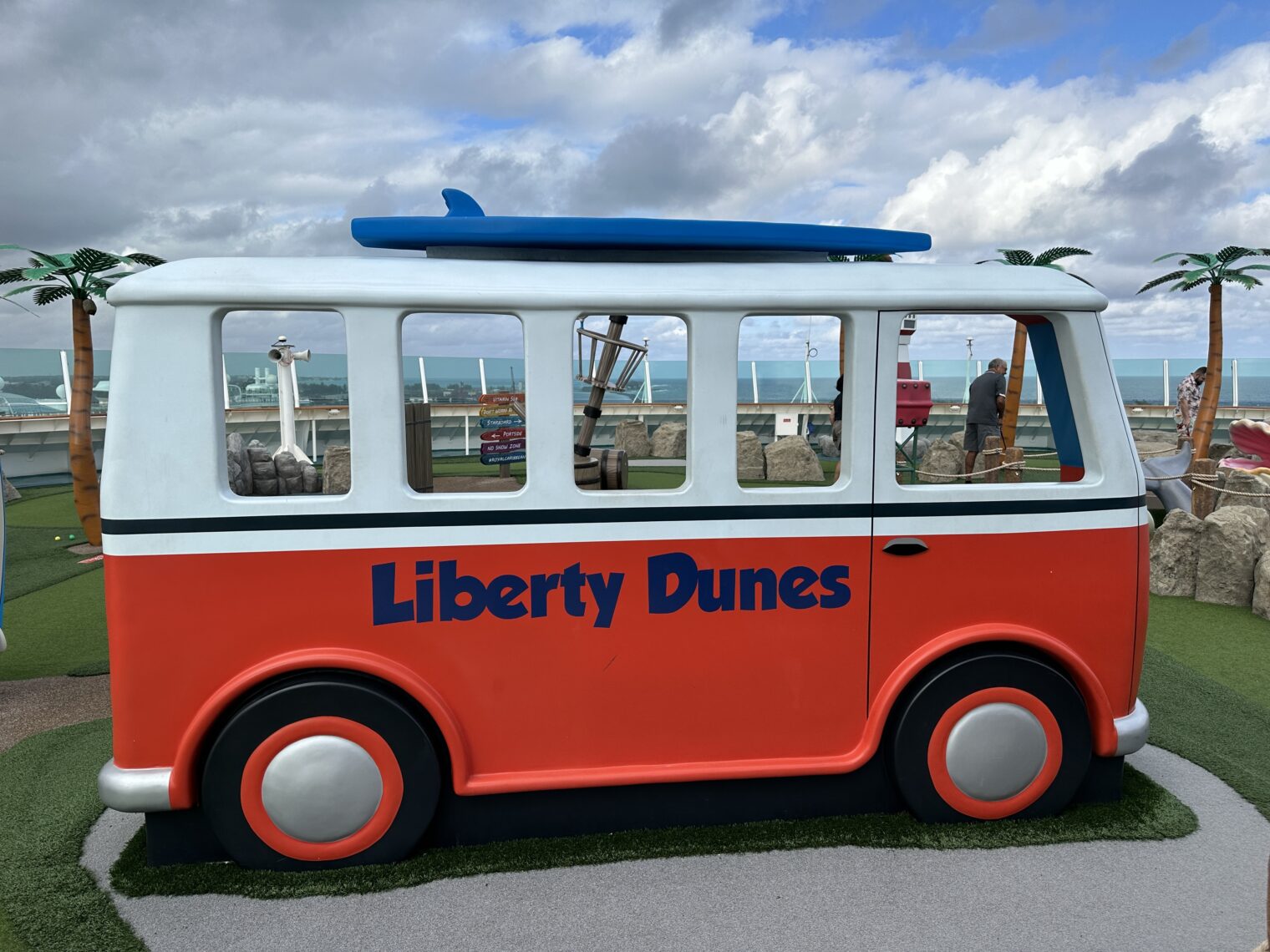 Downtown Nassau is mostly disorganized and, considering that more than 20,000+ cruise ship passengers had arrived in port that day, not much had been built for them. The Pirate Museum is fun for kids and reasonably interesting for adults. The Bahamas scores pretty high in the PPP per capita GDP Olympics and yet there are dilapidated parts of downtown right next to the most important government buildings. Here are some examples: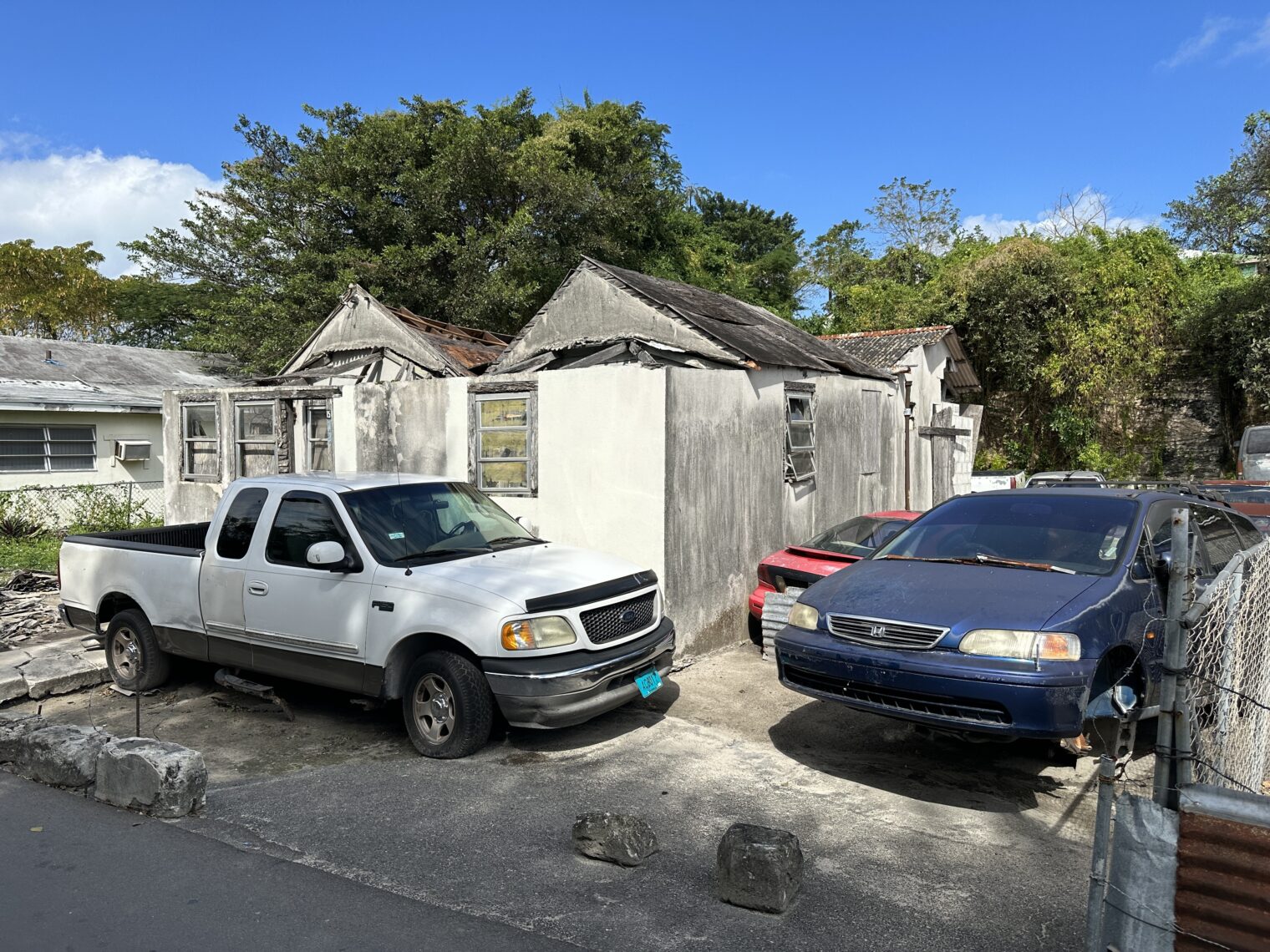 I don't think any of these were part of Sam Bankman-Fried's parents' real estate portfolio. Coronapanic was very much alive and well in January 2023, at least as far as signage was concerned: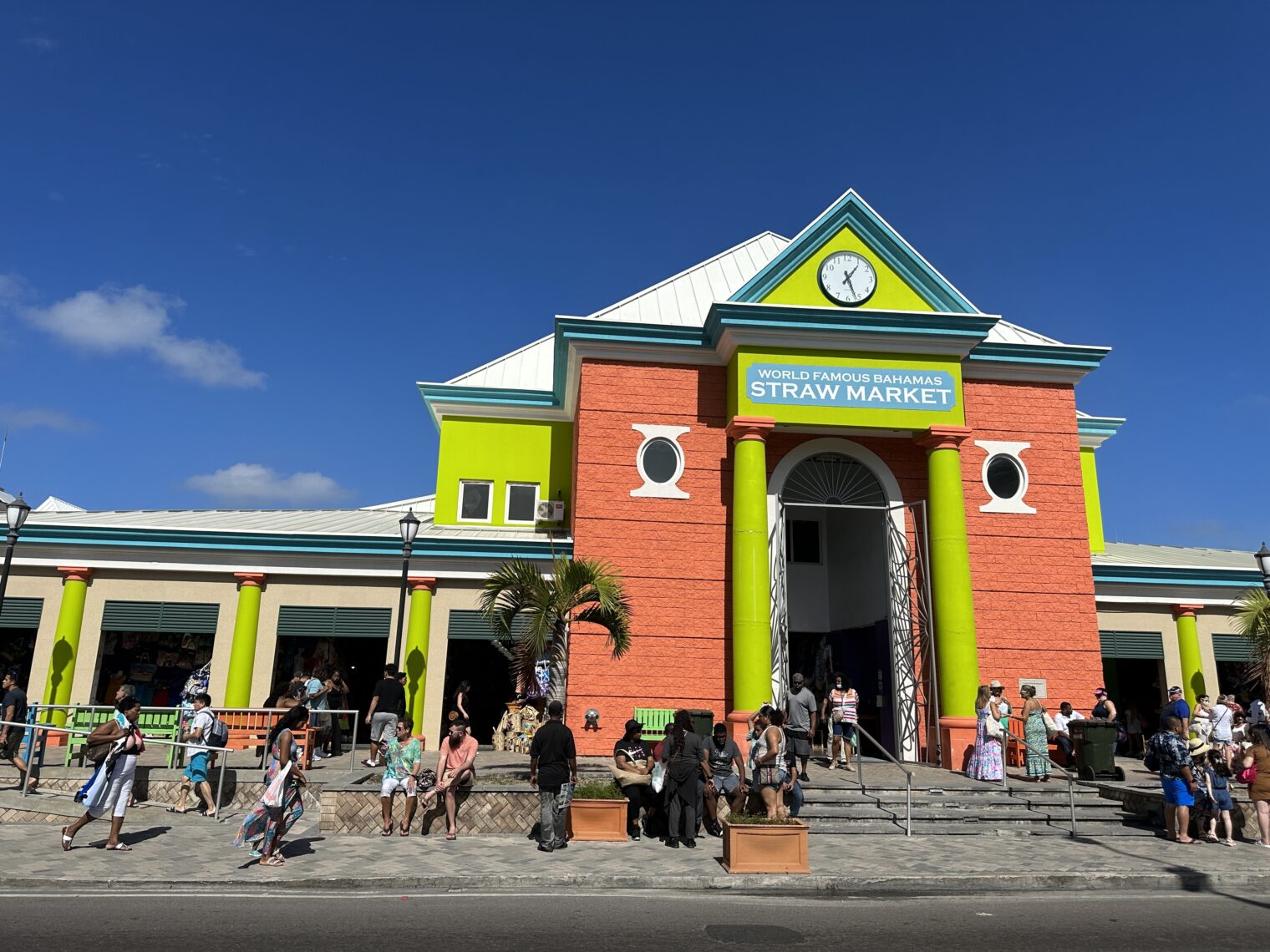 Given that Bahamas has ocean borders, the idea of holding back the SARS-CoV-2 was not entirely quixotic. Nonetheless, most people seem to have given up and mask-wearing was uncommon among the locals. The downtown art museum was closed for the installation of a new show: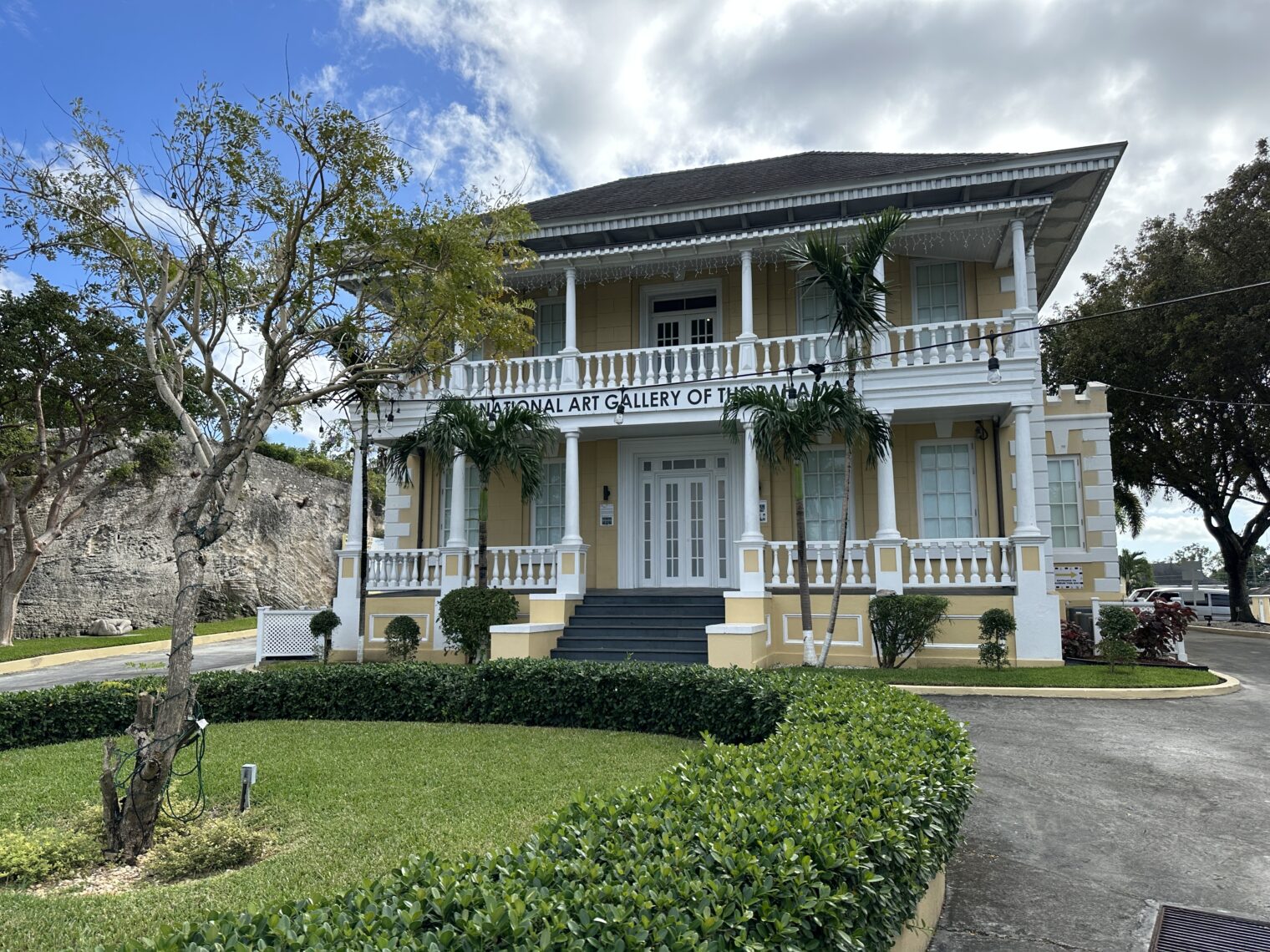 Local friends took me to Baha Mar (featured in this pre-coronapanic post: Baha Mar hotels in Nassau) where the attached convention center has a comprehensive collection of contemporary Bahamian art.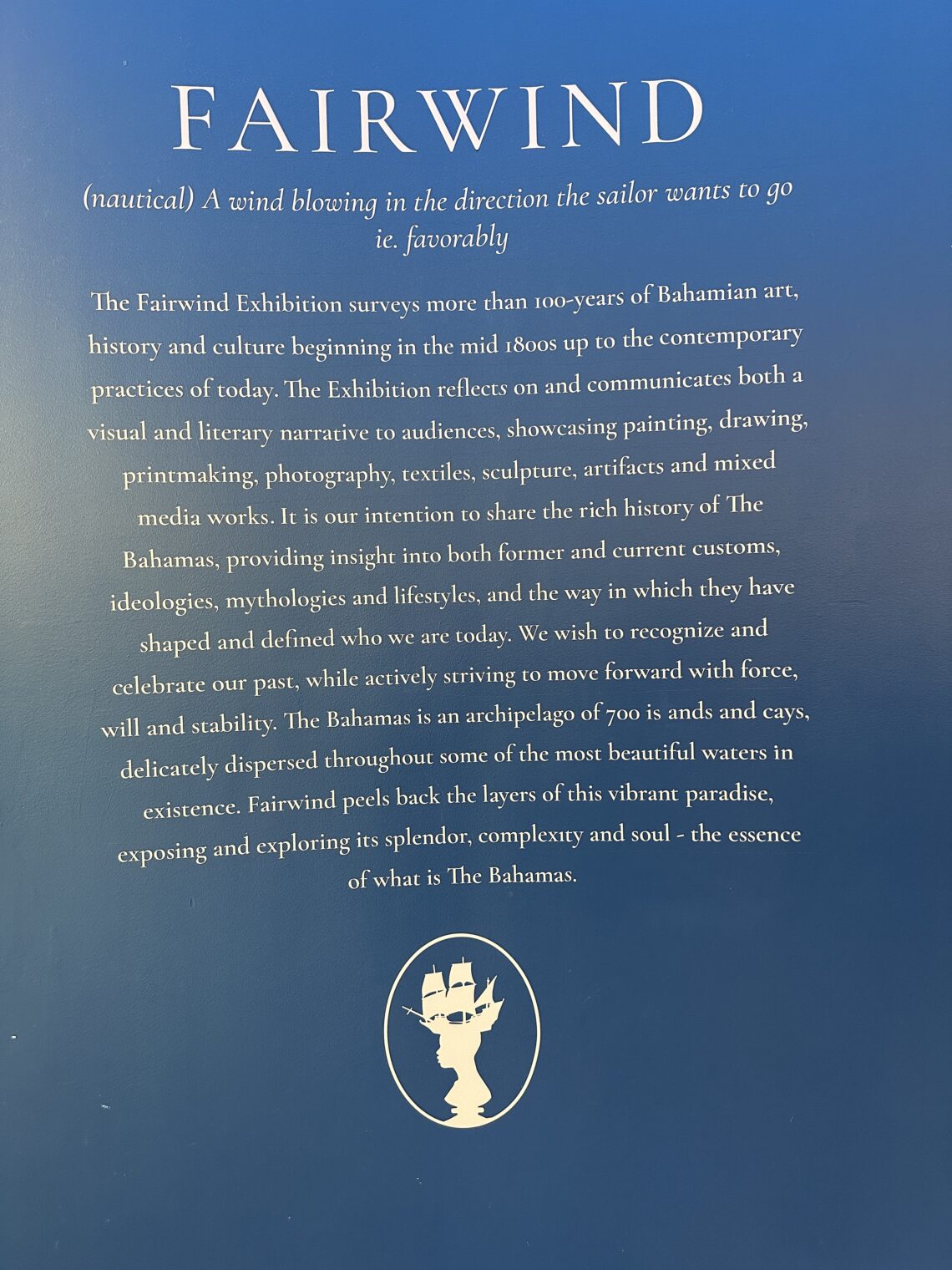 Back on board, it was time for a comedy juggling show by Wilde and James (delighted our 7-year-old) and then a group of Russian (I think) ice skaters/dancers who ended with a tribute to Elvis in Las Vegas (cue the exceptionally fit Russian ice skater in a fat suit):
(passengers can skate on the rink at various times as well)
The ship is so huge that it is difficult to make friends on board. We were seated at a table just for our family at dinner, so didn't meet anyone there other than the waiters (first name "Rommel", after the German general!). We had pleasant chats a few times with other guests, but never saw them again simply due to the ship's size. There are a handful of specific meet-ups, but we didn't attend these because of the imperative to hover over our children (intelligent parents dropped them at the kids' club in the morning and said hello again at 9 or 10 pm; we noticed the 12-17 group enjoying basketball on the top deck sports court at 9 pm one evening).
Worried about getting COVID-19 at a 2SLGBTQQIA+ gathering? Apparently, hardly anyone else is because N95 masks aren't available on board and the cloth masks in the shopping mall were marked down:
Speaking of COVID-19, what if you want to check in with whitehouse.gov to see how Year 4 of the state of emergency is going (first declared January 31, 2020, 7 days after the opioid public health emergency was renewed) or with cdc.gov to see what how Science has changed compared to the beginning of your cruise? Onboard Internet is about $15 per day and is supplied by Elon Musk's Starlink (previously Viasat). You'll be able to Follow the Science at roughly 4 Mbits down and 2 Mbits up. I was able to do an extended Zoom call from the ship, but the handoffs among the local WiFi access points were not seamless and Zoom was required to reconnect periodically as I walked around. Maybe Royal Caribbean needs TP-Link Omada?
The next day it was time for Perfect Day at Coco Cay. Royal Caribbean says that they want to keep the island "green and pristine":
A "pristine" version of a Bahamas Out Island turns out to be one crammed with water slides, burger shacks, and zip lines. There is a free water park for little kids that our 7- and 9-year-olds rejected due to tameness and frigid water:
There is a huge unheated pool whose frigid temperature wasn't an obstacle for those sufficiently lubricated via the unlimited drinks package: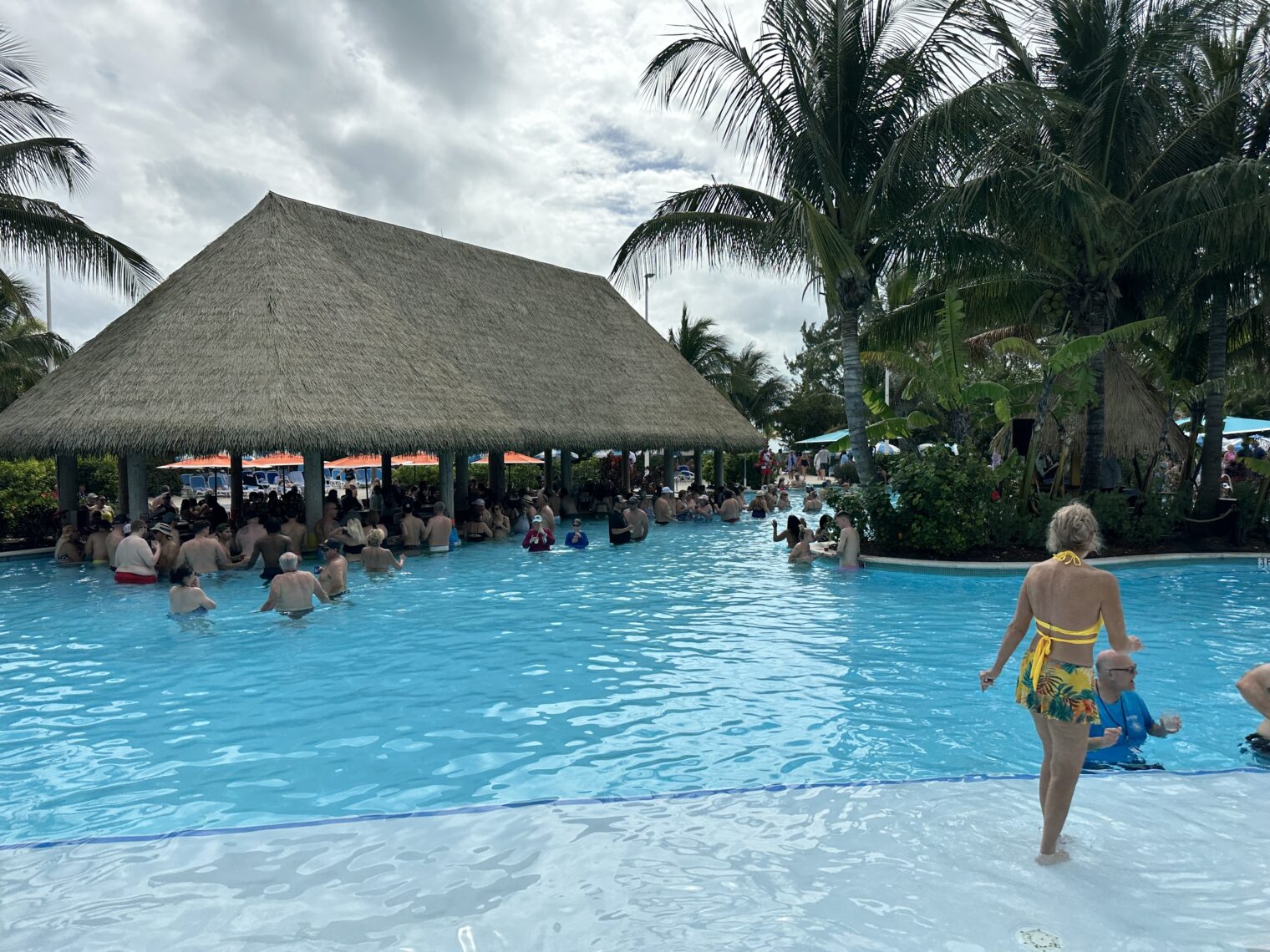 If you get too cold… there is no hot tub. The ocean water is also cold in January: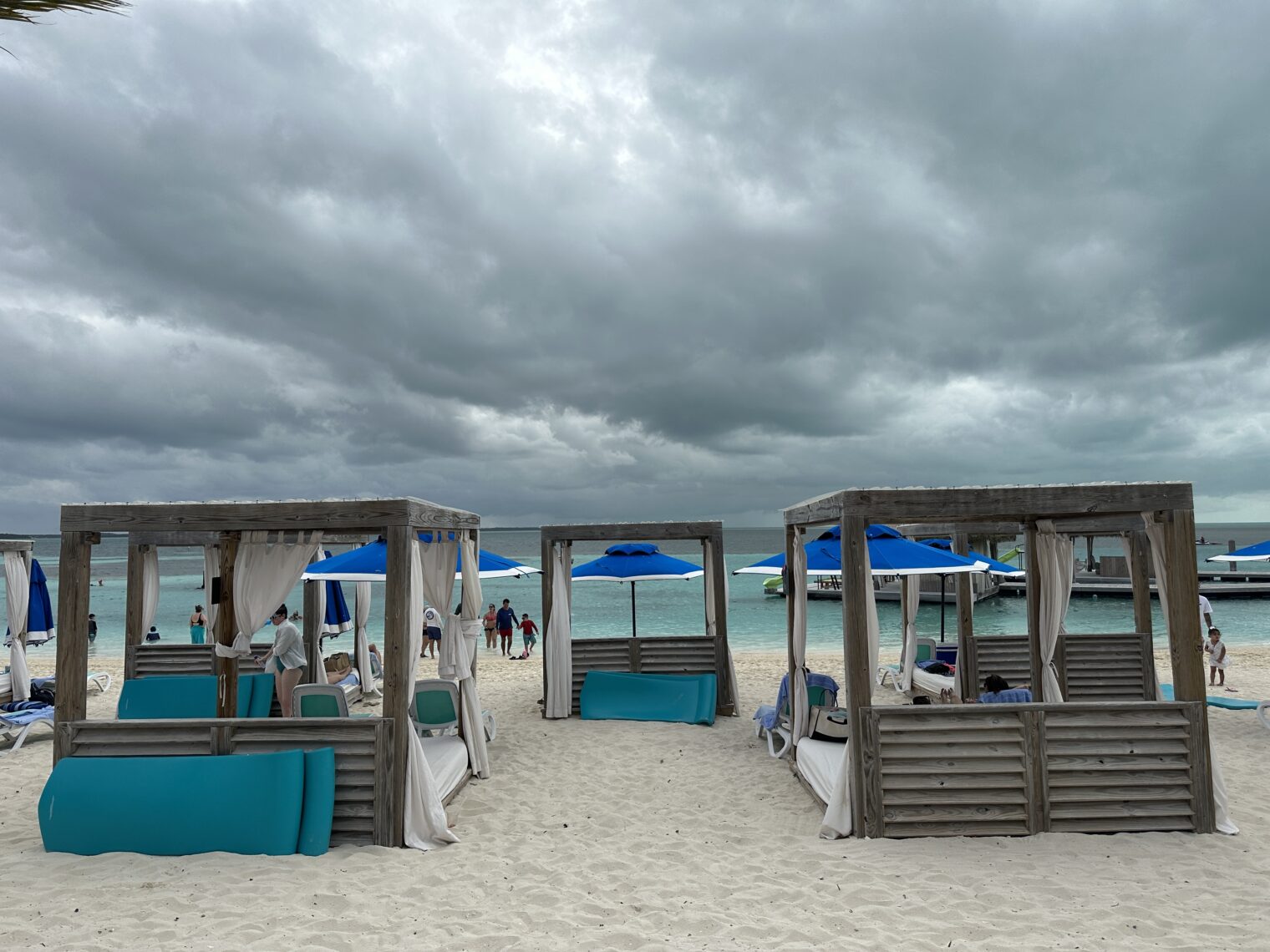 We decided that it was better to go back on board.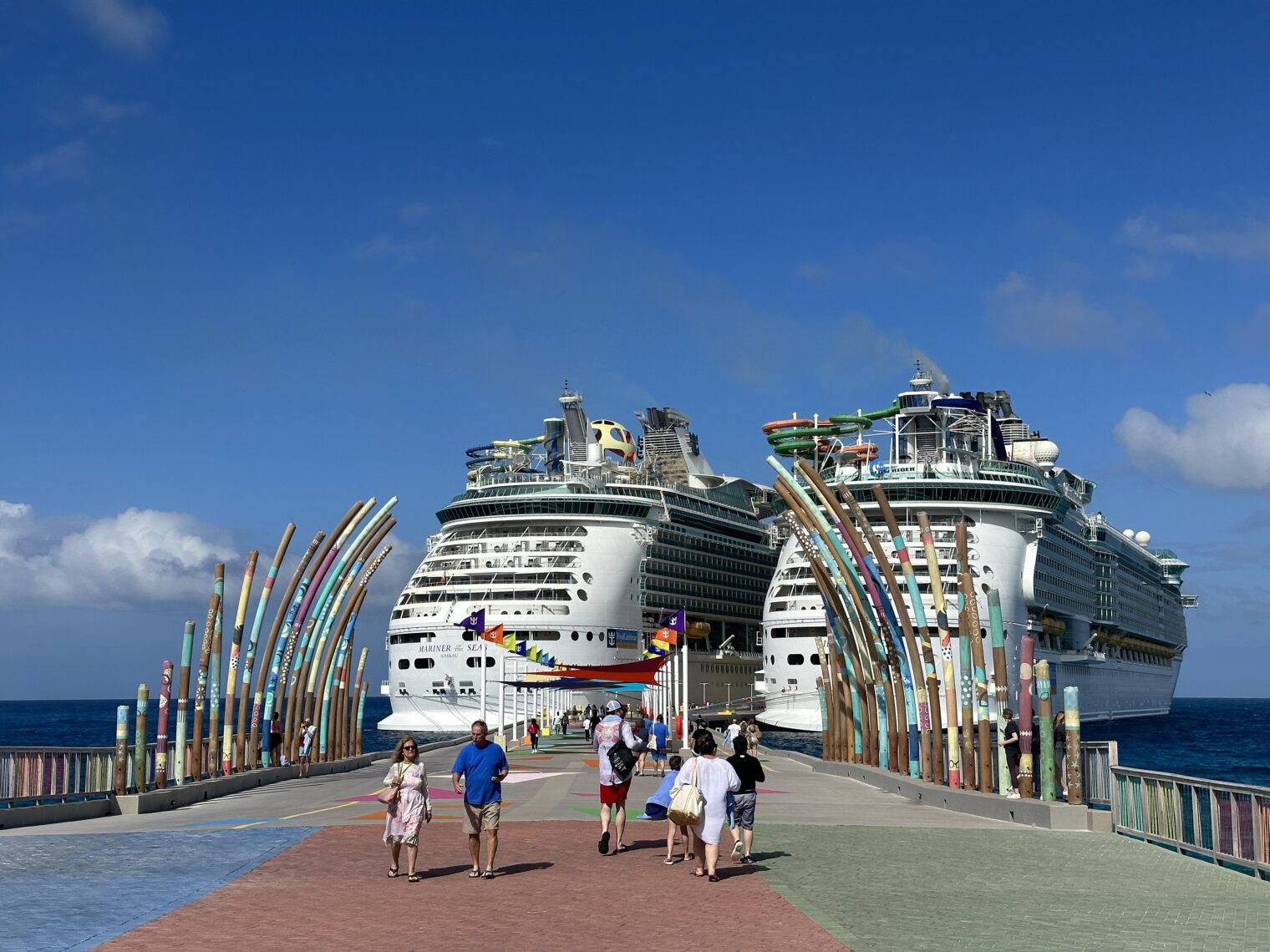 Some folks who got married 20 years before the advent of no-fault divorce:
It was then time to watch the Eagles beat the 49ers in the ship's movie theater (good sound, but a dim and miscalibrated projector that was mostly yellow). It was fun to hear a big crowd of Americans burst out laughing when the announcer mentioned "Doctor Jill Biden" watching the game. Finally, there was a 1.5-hour Broadway show (Saturday Night Fever) with great music, singing, and dancing.
Speaking of dancing, here's a photo taken at 10:26 pm on the last night of the voyage. The dance floor next to the Latin band is busy (I refused to dance, however, because I was waiting for a Latinx band).
We woke up at 6:15 am to find the ship already tied up at Port Everglades. We went downstairs at 7:15 am, about 10 minutes after the possibility of exit was announced. A lady in front of us said that she'd tried this at 9:00 am on a previous voyage and waited 45 minutes to get past La Migra. On returning from a Cuba cruise in 2018 (now once again illegal) we just waved our (closed) passports at a friendly officer and strolled out. Robot La Migra is on the job in 2023, however. Every passenger has to show his/her/zir/their face to a robot, whose screen will turn green if he/she/ze/they is approved. It is unclear to me where Robot La Migra gets sufficient facial dimensions to identify one person out of the tens of millions who sent in small passport photos. Perhaps the problem has been hugely simplified by Royal Caribbean sharing the passenger list in advance (airlines do this with APIS) and, therefore, Robot La Migra just has to verify that a person matches one of the 5,000-ish records in the reduced database.
We were docked, I suspect, right next to the Palm Garage, but a shuttle was waiting and ready to go the Heron Garage so we lost only about 5 minutes in getting to the car and, because we escaped the ship early, there was no queue to exit the garage (see below). Despite traveling about 60 miles through the Miami-FLL-West Palm megalopolis at rush hour, we lost almost no time due to traffic and got the kids to school about one hour late.
Would I recommend this cruise? Yes, to people who live in South Florida or are visiting for an extended period and don't have to take a plane ride specifically for this cruise. (That said, the first people we met on board were from the D.C. suburbs. It was this second on this exact cruise with their kindergartner and they had flown down specifically for the cruise, getting up at 0430 Friday morning to fly to FLL and planning to return to D.C. on Monday evening. The kindergartner loved the kids' club, which our children refused to try.) No to anyone else because there isn't much to do in the Bahamas, especially during the winter when people think that they want to go there. It is actually warmer, both air and water temp, at our own beach in Jupiter, than in the core islands of the Bahamas! The passengers seemed quite happy with their choice. I didn't hear anyone complaining. Nobody was obviously drunk (that's for Carnival?) even at karaoke night (our 7-year-old was a big fan, though he did not sing!). Speaking of Carnival, here's their new spokesperson: