This review is based on a December 9-17, 2018 trip from Miami to Havana, Cienfuegos, Grand Cayman, and Labadee, Haiti.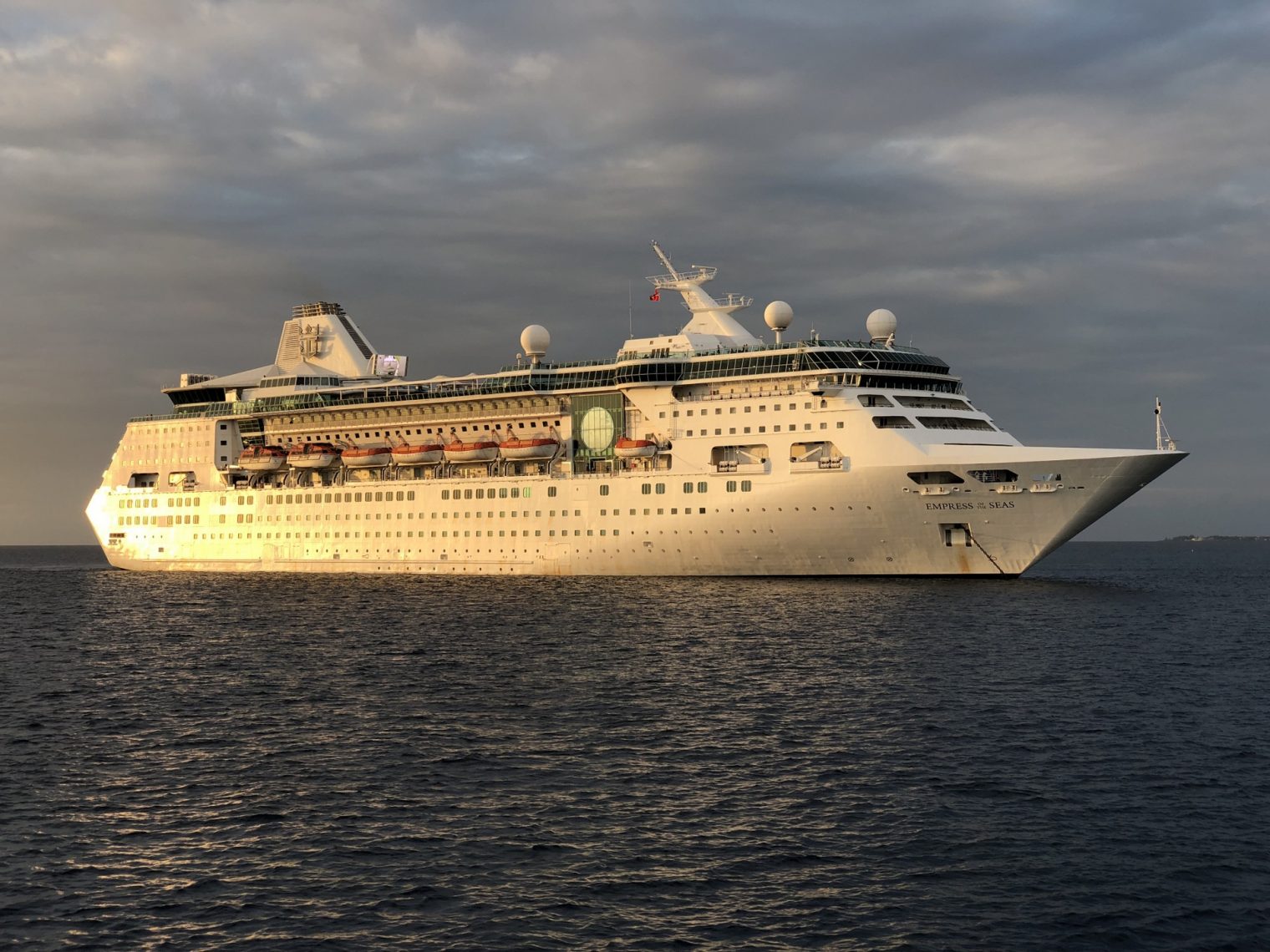 See https://philip.greenspun.com/blog/2019/01/03/cuba-tourism-cruise-ship-versus-hotels/ for some thoughts about seeing Cuba by ship versus land tours.
By virtue of having qualified as U.S. government-authorized providers of "people to people" tours, the cruise lines are able to operate in Cuba legally. Due to their scale and efficiency (world labor market!), the result is far cheaper than what land-based tour companies are able to offer. The basic rooms-with-windows on Empress of the Seas for our departure were going for less than $800 per person ($100/day) including all fees.
Empress of the Seas is the smallest and oldest ship in the Royal Caribbean inventory. Wikipedia says that she was launched in 1989 and holds 1,840 passengers. Piers in most Cuban ports circa 2018 were not capable of handling larger ships, which is why this smaller and less profitable ship was in use (see https://philip.greenspun.com/blog/2018/12/26/cruise-o-nomics/).
The basic cabins on Empress are truly closet-sized. We paid $3,070 for a "suite" that is more like the size of an ordinary "room" on a new ship. The bathroom was tiny (way too small for a tub, for example). It was worth it for the balcony. We spent another $2,000 or so on shore excursions, Internet connectivity (intermittent and sometimes slow), drinks (not on the unlimited "alcohol misuse disorder" plan!), etc.
The crew likes to surprise passengers with decoration:
Shore excursions typically entailed 1-1.25 hours of "line up and wait" before we were actually on a tour bus and headed to the first destination. Passengers are called to the theater, check in with their tour tickets, are assigned number/sticker, and then wait for 45 minutes until the number is called. The guided tour of Havana was interesting and the guide spoke excellent English. The tour in Cienfuegos was struggling for reasons to exist, on the other hand, and our guide struggled with English and organization. We did enjoy the botanical garden, but it would have made more sense just to walk around the UNESCO World Heritage downtown on our own (may not be legal, technically, but there are no practical barriers to doing this; passengers self-certify that they will buy an organized tour of some kind, but there is no enforcement). Cienfuegos receives many fewer tourists and therefore has many fewer people hustling to make a buck off tourists. This makes it a more relaxing environment for sightseers than Havana.
Grand Cayman has the strip malls and traffic jams of Greater Miami, but without the art, architecture, culture, and music. The local museum is interesting (the history of the Caymans is mostly the history of killing all of the sea turtles) and Seven Mile Beach is a nice walk and perfect for swimming. Snorkeling and Sting Ray City strips were canceled the day that we were there due to several days of high winds and associated heavy surf.
It was nice to see a strip mall sign feature the Chabad center next to a tattoo and piercing parlor (see "Why Does Judaism Forbid Tattoos?" on the Chabad.org site). However, I would be much more enthusiastic about returning to Cuba than going back to Grand Cayman. (Luca, on the beach inside the Caribbean Club hotel, was a great place to hang out for a long lunch and swim before or after.)
We loved Labadee, Haiti and I wrote about it separately in https://philip.greenspun.com/blog/2019/01/21/labadee-port-guide/
Out of our 7 full days on the ship, 3 of them were spent entirely at sea. Cruise lines love sea days because they pay no port fees and collect revenue from their shops and casinos, which cannot be operated except when in international waters. I got a high-quality reasonably-priced haircut on one of the sea days and managed to get in 10,000+ steps/day walking around the promenade deck.
The Serenade of the Seas (see my Baltic cruise review) had a beautiful spacious gym with wonderful sea views. Unfortunately, the Empress of the Seas has a small gym that feels like an afterthought. It is tucked up in a balcony above a lounge/bar.
As on Serenade of the Seas, the kitchen cannot make a donut, roll, or loaf of bread with anywhere near the competence of an average American supermarket. I ended up eating no bread for the entire journey and came back having lost a pound or two. Coffee is not up to the usual Dunkin Donuts or Starbucks drip standard. Food in the main dining room is mediocre. The specialty steak house food was excellent, as was the service and the ambiance. As described in https://philip.greenspun.com/blog/2019/01/01/new-years-wish-national-and-global-unity-via-more-cruise-ships/ the lack of assigned seating in the main dining room led to a lot of interesting mixing among passengers. Royal Caribbean's main strength seems to be HR. Nearly all of the staff were friendly and seemed happy to be helping tourists enjoy their vacations. The restaurant folks were strong on hospitality and presentation.
The bridge tour was awesome. Maybe it would have been better if one passenger hadn't asked whether a screen was dedicated to avoiding collisions with U.S. Navy vessels…
On-board entertainment was at least pretty good on about half the nights, though you have to like pop, ballroom, and Broadway. Olga played the piano for us in the dining room: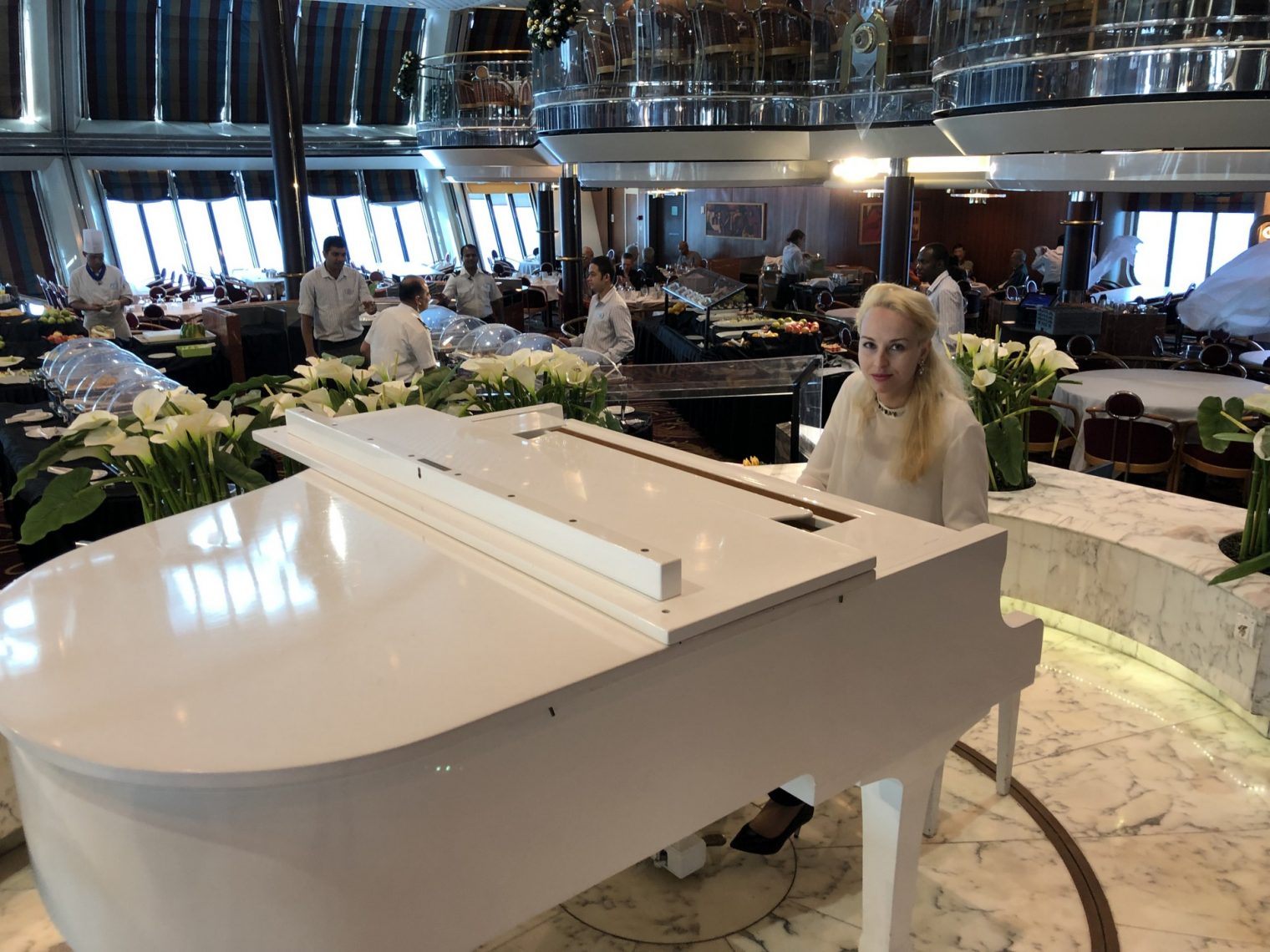 Security screening never caused a delay of more than 2 minutes and usually less. At Cienfuegos we got in and out of the port via the ship's tenders, of which there are two. This resulted in a 20-minute line to get back on board. At Grand Cayman we used 200-person tenders run by the port itself, but they didn't go very often. I got to the tender about 40 minutes before the "last call for a tender" time and ended up sitting on the tender for 40 minutes before it cast off. (First two photos below show one of the ship's tenders in Cienfuegos and also that you want to be reincarnated as the Purell salesperson for the Royal Caribbean account. Second two are from Grand Cayman and show the port's tenders.)

Returning to Miami involved 45 minutes of "hurry up and wait" followed by an astonishing U.S. Immigration and Customs experience. Having come from Cuba and Grand Cayman, potentially with suitcases stuffed full of contraband materials, we merely showed our passports to a smiling officer and then walked out to the pier.
Recommended hotel in Miami: Hyatt Centric, South Beach.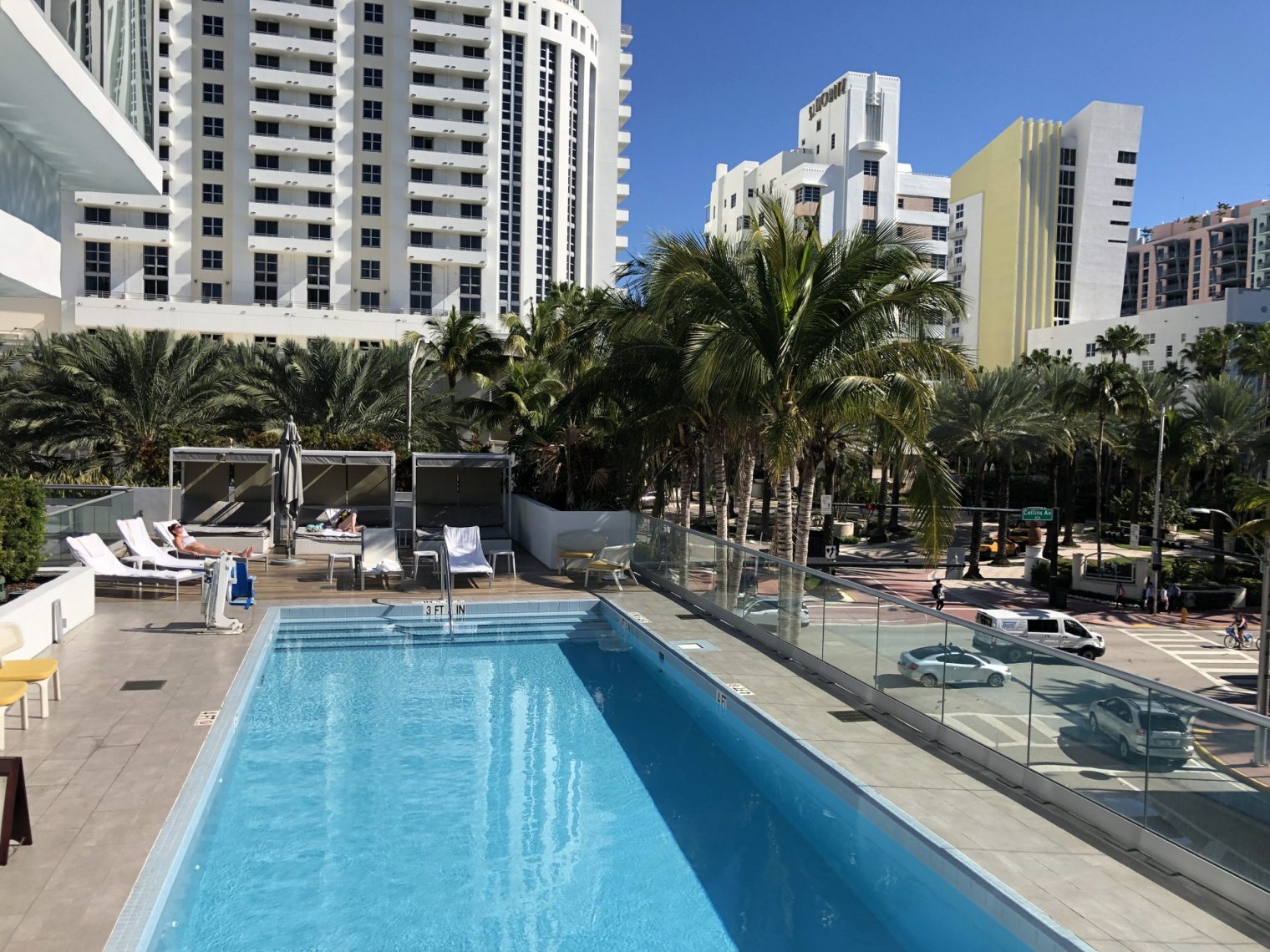 Recommended art museum in South Beach: Wolfsonian, for its Art Deco collection.
(Before deciding to abuse shareholders with looting via stock options and decades of stagnation in stock price, GE sold light bulbs to honor Ahura Mazda, the God of Zoroastrianism!)
Summary: It was a great trip, a good value, and a nice introduction to Cuba.
Related: