With some combination of federal, state, and city tax dollars, New Yorkers are buying child care for migrants. From https://www.nyc.gov/content/getstuffdone/pages/promise-nyc :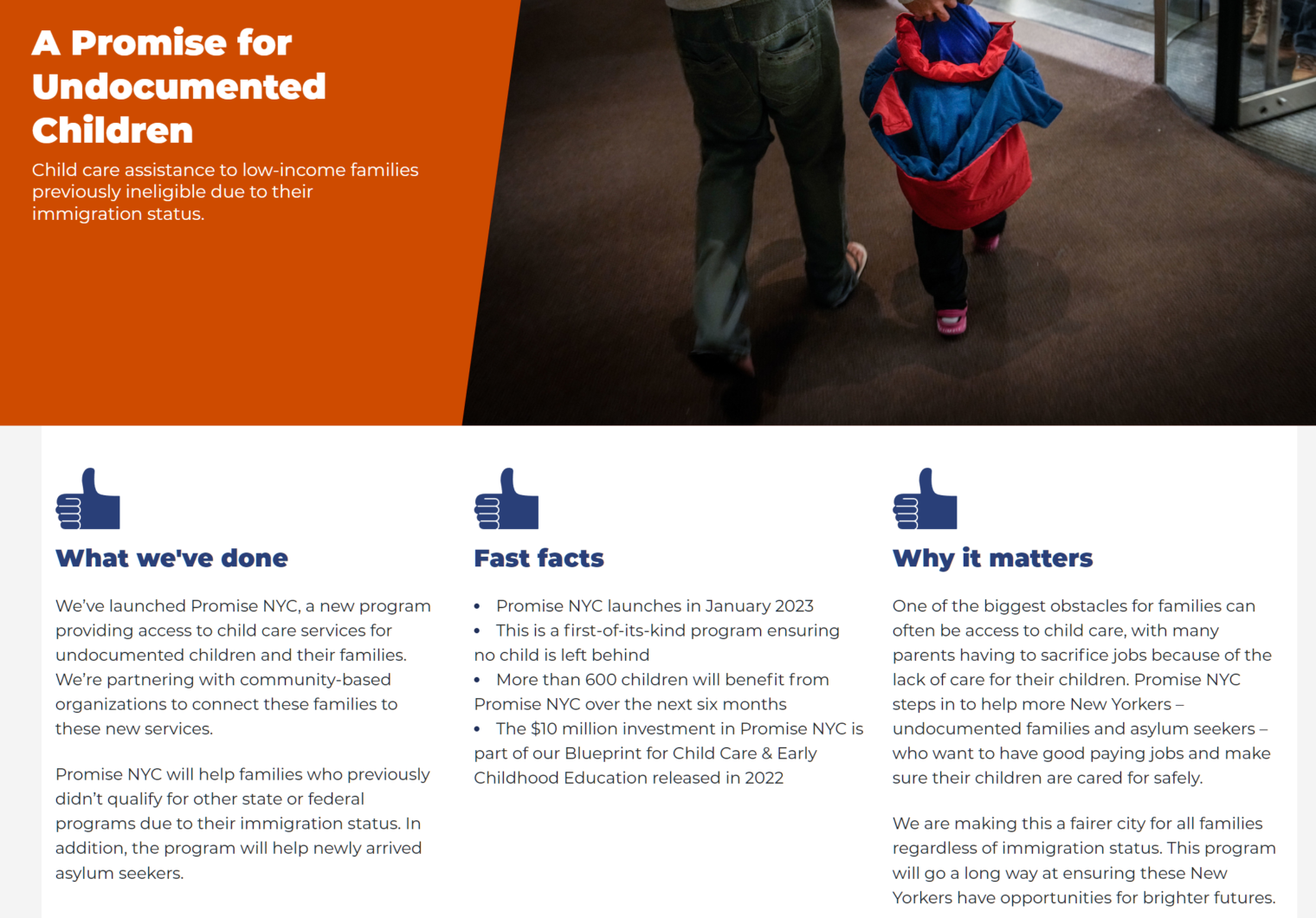 This page is a little confusing. It says "the program will help newly arrived asylum seekers." But newly arrived asylum-seekers are not legally able to work in the U.S. (nytimes). Why aren't migrants able to take care of their own children if they're not at work?
After paying federal, state, and city income tax to fund this and other social justice programs, how much do working New Yorkers have left over for their own kids' care? Not enough, says the NYT… "How Soaring Child Care Costs Are Crushing New Yorkers":
All but the wealthiest New Yorkers — even the upper middle class and especially mothers — are scrambling to afford care that will allow them to keep their jobs.

A New York City family would have to make more than $300,000 a year to meet the federal standard for affordability — which recommends that child care take up no more than 7 percent of total household income — to pay for just one young child's care. In reality, a typical city family is spending over a quarter of their income to pay for that care…
What solution does Science offer? What's not affordable on an individual basis will become inexpensive as soon as it is 100-percent government-funded:
But experts say that none of those efforts have tackled the core issue of extremely low wages for child care employees. Beyond raising pay rates, they said, the city and state could fully fund child care for 3-year-olds, ensure that providers are paid on time and give them more training,
Separately, at a party in Norwalk, Connecticut last month I learned about a consultant paid by NYC parents to help get their kids into the selective preschools (a child who gets into the right preschool is set up to get into the elite elementary school and that sets him/her/zir/them up to get into the elite high school and that, plus a compelling essay on comparative victimhood, sets the child up to get into an elite college). She earns over $1 million per year.