The Fall and Rise of China, a course by Richard Baum (late professor at UCLA), asks how it was possible for an empire that had been so successful for 1,000 years to fall apart in about 100 years. The decline of China relative to Europe was anything but predictable, in his view, and the real question is why China didn't continue to lead the world economy.
The professor's thesis is that population growth doomed China. The Manchus improved the control of floodwater from China's major rivers, thus enabling more stability in agriculture. Instead of an improved standard of living, however, this lead to a huge increase in what had been a stable population size, from about 125 million to 450 million over 200 years (1700 to 1900). Agricultural productivity per acre did not improve significantly and the cultivated land per person fell, thus reducing both the standard of living for the typical citizen and tax revenues for the government (people at a Malthusian level of subsistence can't pay tax).
(The doom was accelerated to some extent, according to Professor Baum, by the corrupt and incompetent Empress Dowager Cixi, who ruled China for 47 years and obstructed efforts to modernize the military (partly by stealing money that had been appropriated for that purpose). Without her, China might have had a chance to go more in the Japanese direction.)
I'm not sure that the "overpopulation" answer is correct, but the question seems like the right one to ask. How did a country that was so far ahead of the rest of the world suddenly (when viewed through the lens of history) collapse?
Venezuela certainly didn't thrive once its oil wealth was divided by a larger population. Chart from the World Bank: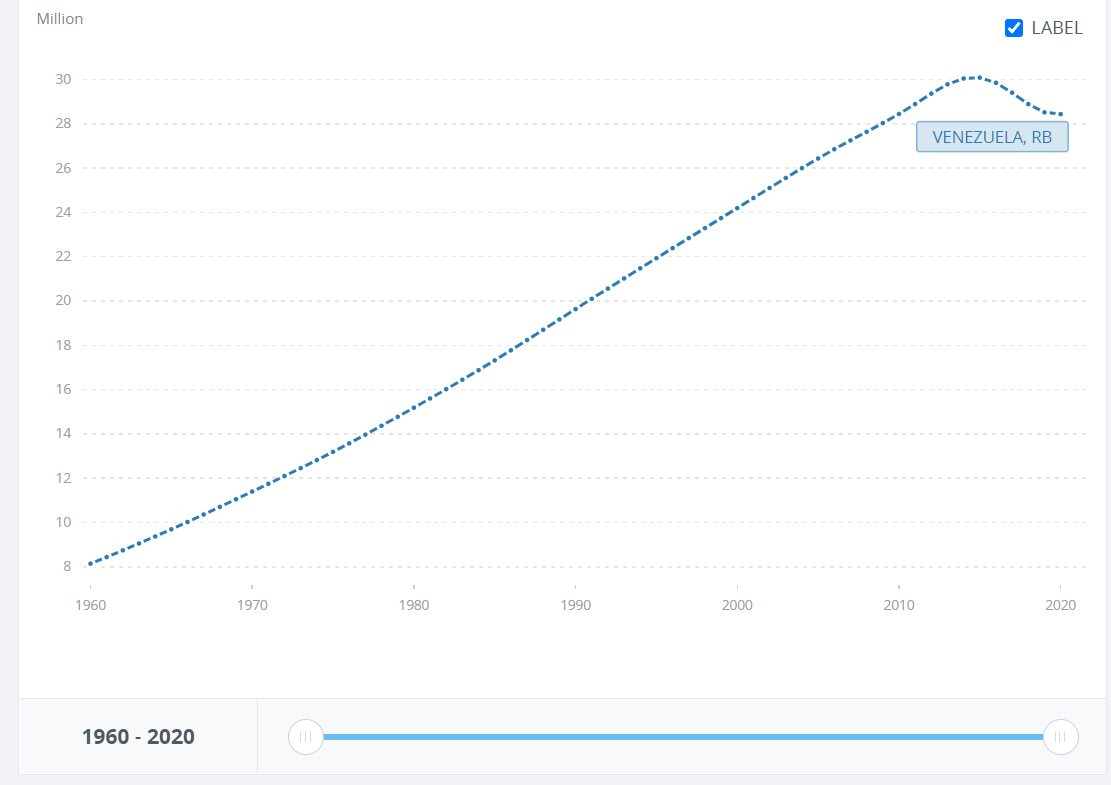 Venezuela was producing roughly 2.5 million barrels of oil per day in 2010 at about $80 per barrel. That would have been $36,000/year in walking-around revenue for a family of 4 if total revenue were divided by the 1960 population of 8 million. Divided by 28 million, though, and revenue per family was down to $10,000 (and don't forget that Venezuelans had to take care of the Big Guy and his family before oil revenue could be distributed more widely).
Are there lessons for the U.S.? As the U.S. population has grown (10 million in 1820, 180 million in 1960, 333 million today), Americans have gotten fatter, not thinner. We're not running out of food like the Chinese did. On the other hand, folks who show up in the U.S. expect an endowment of land/housing. The standard of living to which Americans believe themselves entitled is now, absent taxpayer-funded subsidies, out of reach of roughly half of the people who live in the U.S. and the situation gets worse every day (see "Hundreds of Haitians arrive in Massachusetts from southern border lacking housing, health care" (Boston Globe, 10/10/2021), for example: "Advocates scramble to find homes and help for the new arrivals." (if every Massachusetts homeowner with an "immigrants welcome" lawn sign and a spare room would host just one Haitian, a substantial fraction of the 1.1 million Haitians in the U.S. could be accommodated in just this one righteous state!).)
The NYT, 8/10/2021 says the situation is dire, but Biden's central planners have a plan to fix this and we just need "a once-in-a-generation effort". Harvard agrees that Biden, whose name occurs 6 times in this report, will make all of our housing dreams come true. The NYT article cites Japan favorably. Rents in Tokyo are no higher than they were 20 years ago (it looks as though the indices are adjusted for inflation because San Francisco rent is up only 150 percent and New York up only 100 percent). Not mentioned is that Japan's population, over the last 20 years, is essentially flat (127 million down to 126 million). You shouldn't need the world's finest central planners to manage housing for a constant-sized population.
The Chinese, according to the professor, also suffered from insularity. They mostly stopped traveling to foreign countries (compare to our border-crossing restrictions since February 2020). They didn't keep up with the Industrial Revolution (compare to our current dependence on Asia to fabricate semiconductors). Due to Internet, container ships, and air freight, however, it is tough to imagine the U.S. ever being truly disconnected from innovation centers around the world.
So history may not repeat itself nor even rhyme, but it is still an interesting question to ponder. Why were Michelle Faraday and Katherine Clerk Maxwell the pioneers in electromagnetism rather than physicists in Beijing? Why was it Mileva Marić who explained the photoelectric effect and figured out that gravity distorts spacetime, rather than someone in Shanghai? Why was it Louise-Hélène de Lesseps who created the Suez Canal rather than the Chinese, who had more than 2000 years of canal experience.
Full post, including comments