"Civil Rights Law Protects Gay and Transgender Workers, Supreme Court Rules" (NYT):
The Supreme Court ruled Monday that a landmark civil rights law protects gay and transgender workers from workplace discrimination, handing the movement for L.G.B.T. equality a stunning victory.

"An employer who fires an individual merely for being gay or transgender defies the law," Justice Neil M. Gorsuch wrote for the majority in the 6-to-3 ruling.

Until Monday's decision, it was legal in more than half the states to fire workers for being gay, bisexual or transgender. The vastly consequential decision extended workplace protections to millions of people across the nation, continuing a series of Supreme Court victories for gay rights even after President Trump transformed the court with two appointments.
Personally, I think that any law like this actually reduces employment opportunities for the category of people whom such a law purports to help. The law highlights to employers the inferior nature of workers in this category and that, if the employer is unwise enough to hire someone from this category, a lawsuit is an ever-present possibility. Absent a substantial discount, therefore, a rational employer, even one who is completely without prejudice, should thus do everything possible to avoid hiring someone who might fit into the protected category.
In our neighborhood… ("Love is Love" in a larger font than "Black Lives Matter"; significant?)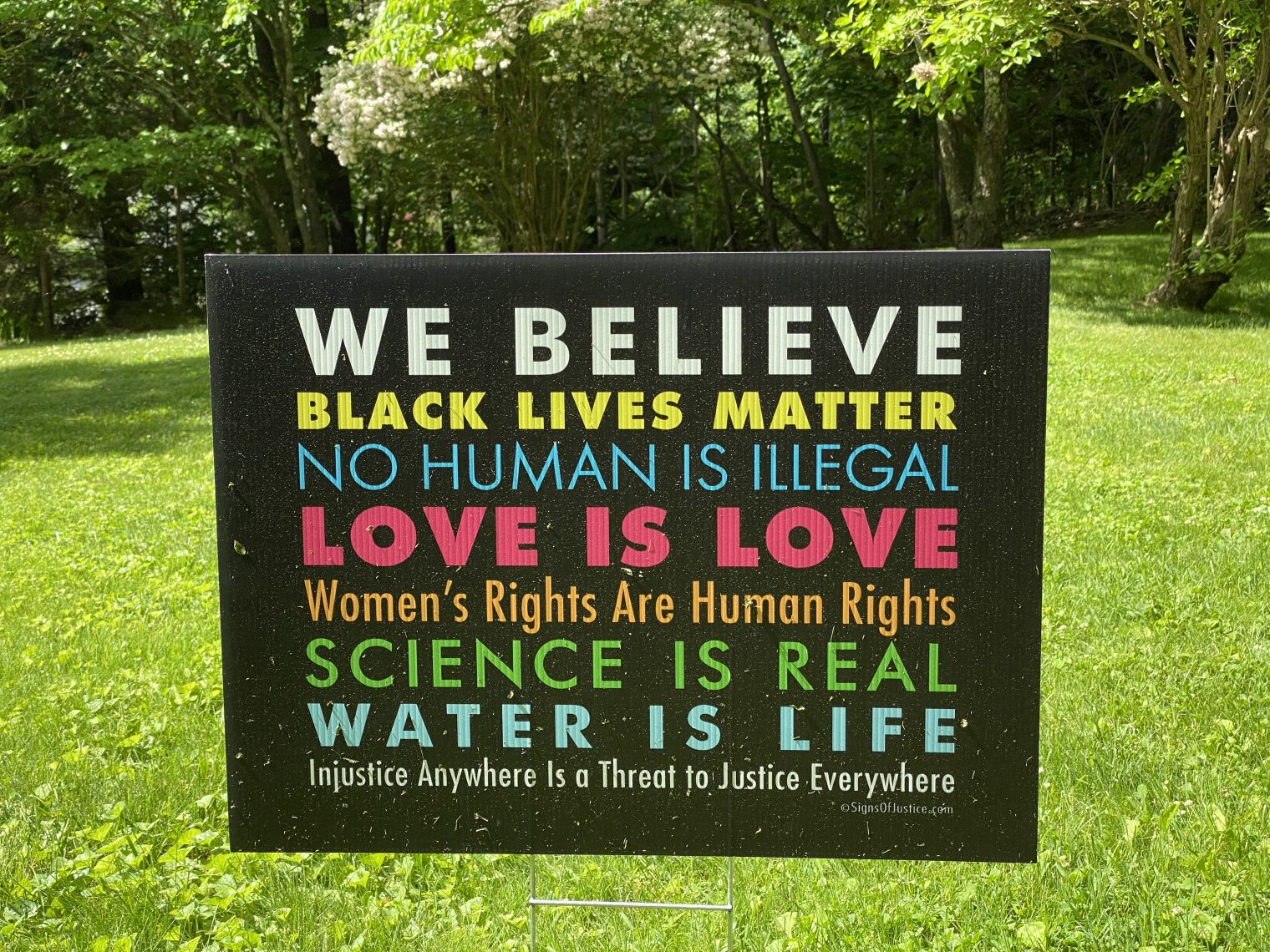 Gary Drescher, an MIT computer science PhD who is also interested in cognition and philosophy, posted this analysis on Facebook:
Today's 6-3 Supreme Court ruling on sex-discrimination is encouraging, and not only because the outcome is good (and not only because Trump's appointee Gorsuch wrote the opinion rebuking the Trump administration's position). It's encouraging because the legal reasoning is correct and straightforward: discrimination against someone for being gay or transgender is an instance of sex discrimination, even if Congress did not understand it as such when they banned sex discrimination in the Civil Rights Act of 1964. That is, it's sex discrimination to fire someone for, say, wearing a dress or having a male spouse, if those same behaviors would not be penalized if the person's own sex were different than it is.

By fanciful analogy, imagine if Congresspersons were all numerologists who in the 1960s passed a law saying that a person must pay an income-tax surcharge in any year for which the person's taxable income was a prime number of dollars, due to some mystical property of primes. But imagine that at the time, 23,069 was widely believed to be a prime number, so Congress expected the surcharge to apply to that income. Nonetheless, upon discovery of the factorization of 23,069, a court today would have to hold that income exempt from the prime surcharge, even though the exemption contradicts Congress's expectation when they passed the law. It's not that Congress was using the term 'prime' differently back then–rather, they had a factually incorrect belief about a particular number's primality. Even originalism regarding the meaning of a legal text does not necessarily bind us to false beliefs held by the text's framers.
Gary has persuaded me! Readers: what about you? Is this the dawning of a great new era in American employment litigation?
(Separately, I wonder if the new interpretation of the law leads to a logical contradiction among some American religious beliefs. Transgenderism is as "real" as science, per the sign above. Belief 1: If Joe Linebacker decides to identify as a "woman" starting tomorrow, she immediately becomes a completely successful 6'3″ tall, 275 lb. woman, indistinguishable from a cisgender woman. Belief 2: Employers, being more interested in after-work sexual activities and gender IDs than in profit, will ferret out the transgendered and, as the NYT says, "fire workers for being gay, bisexual or transgender". How can Beliefs 1 and 2 be consistent? According to Belief 1, absent a DNA kit, nobody can discern the difference between a transgender woman and a cisgender woman. If that is true, how does the prejudiced employer figure out whom to fire?)
Finally, what if the Equal Rights Amendment had been passed?
Equality of rights under the law shall not be denied or abridged by the United States or by any State on account of sex.
With this new interpretation of "sex", what else would change had the ERA been ratified?
Finally, what is the practical effect of the righteous elites passing laws like these? Here's a private text message from a small business owner, responding to the NYT article:
Except transgender is mental illness. Do you really think a company should be forced to hire a 6 foot tall man who thinks he is a woman?
From an immigrant physician, near the beginning of coronapanic:
We have a transgender psychiatrist health secretary. We r f**ked
(she is from a conservative culture)
Will these people (Deplorables?) be persuaded to abandon their prejudices via threat of litigation? Or will they just hide behind Silicon Valley-style "not a culture fit" (regarding an over-35 applicant) cover stories?
To sum up: I am persuaded by Gary and think the Supreme Court made the right legal decision, but I also think this decision will end making it harder for a transgender person to get a job in the U.S.
Full post, including comments