Journalists around the world love to condemn the Swedes for their refusal to attend the Orthodox Church of Shutdown while instead following the false prophet (former chief scientist of the European CDC). Example: "Graph shows Sweden's coronavirus death toll rapidly increasing compared to other countries" (Independent). (When writing this kind of story, it is best to avoid comparing Sweden with shut-down Massachusetts!)
Today's New York Times, however, gives us the data that are least likely to be subject to variation from recording: total deaths by country. From "28,000 Missing Deaths: Tracking the True Toll of the Coronavirus Crisis":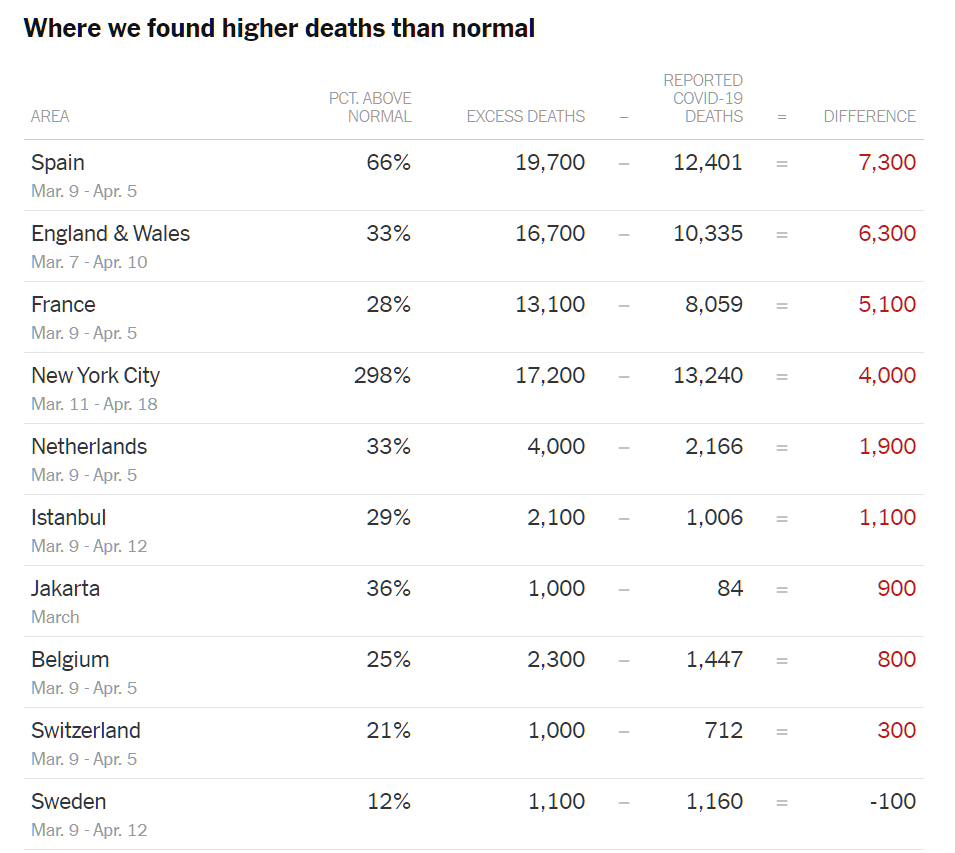 Sweden actually seems to over-reported their COVID-19 deaths (see "Sweden may be recording COVID-19 deaths differently than other countries"), the only country in the survey to have done so.
The reporters and editors who worked on this story somehow neglect to mention that the country with the smallest increase in deaths is still running its schools, restaurants, offices, nightclubs, gyms, etc.! (Maybe this didn't seem significant to them, despite the 12% versus 298% discrepancy. For True Believers in the Church of Shutdown, what Sweden is doing is merely a variant form of their own religion, just as Hinduism was for the Portuguese who spent an entire summer on the west coast of India in the late 15th century. So strong was their belief in Christianity that they believed Hindu temples to be churches (and Ganesha was Jesus with a big Jewish nose?). They attended Hindu religious rituals and believed that they were observing Christian practices.)
[How did New York City get to be such an outlier? A friend's wife's theory is that it was the three shopping days between when the governor announced a lockdown and when the lockdown actually began (Friday morning to Sunday at 8 pm). "I have never seen stores so crowded in Manhattan," she explained. "People were panic-buying everything that they thought they might need over the next three months. Bed, Bath, and Beyond was so jammed you could barely move. Nobody was wearing a mask. I think most of the infections in New York City happened during those three days."]
Related: