A comment on "Power of the Media to Shape Coronaplague Beliefs" (June 29):
Brett Arron, MD

It is amazing that people are willing to dismiss the NYT reports while ignoring data evaluations by the experts in infectious diseases and epidemiology. New cases are a leading indicator of what is coming. Average onset of symptoms from exposure is 5.2 days ranging up to 10-14 days. It is another 10 days before hospitalization becomes necessary for about 20% of the population, It may be another few days before intubation and mechanical ventilation become necessary in about 2.5% of the infected population. Around 1.8% of the CoV19 patients progress from respiratory failure and develop failure of multiple organ systems and succumb to the infection 1-3 weeks after intubation.
Rather than trying to reason your way with an incomplete set of data and facts to an answer you would like, you would be best following expert advice. Wear mask, socially distance, minimize your exposure to crowds and encourage others to exercise exemplary citizenship and do the same.
BTW in some recent strains of the SARS2 CoV-19 virus spike S1 and S2 proteins have stable and more effective at transmitting the infection to cells.
Annual mortality in the US from the annual influenza seasons averages about 0.2%. US CoV-19 mortality rates are 10 times higher about 2%. With the recent trends to younger patients hopefully the mortality rate will start to fall.
Publishing half truths confuses the issues and distracts from our best responses. Sweden's mortality rates are much higher than their neighbors. New Zealand clamped down hard initially and is now CoV-19 disease free.
Free speech has limits. It is illegal to scream fire in a movie theater. In this analogy, there is a fire in the theater and you and people like you are telling people it is okay to stay in your seats, just ignore the smoke and fire alarms, no one had died.
Herd immunity
My implicit prediction was that the downward/flat trend in deaths in the U.S. was likely to continue, despite the rising trend, starting in mid-June, of positive infection tests. This prediction was based on decades of experience… as a computer programmer. Dr. Brett Arron's was based on actually knowing something.
It has now been roughly 8 weeks since the "new reported cases in the U.S." started trending up. What are we seeing in the trend of "new reported deaths"?
———— everything above this line was written on June 29 ————-
Well… it looks like I owe Dr. Arron dinner! From NYT: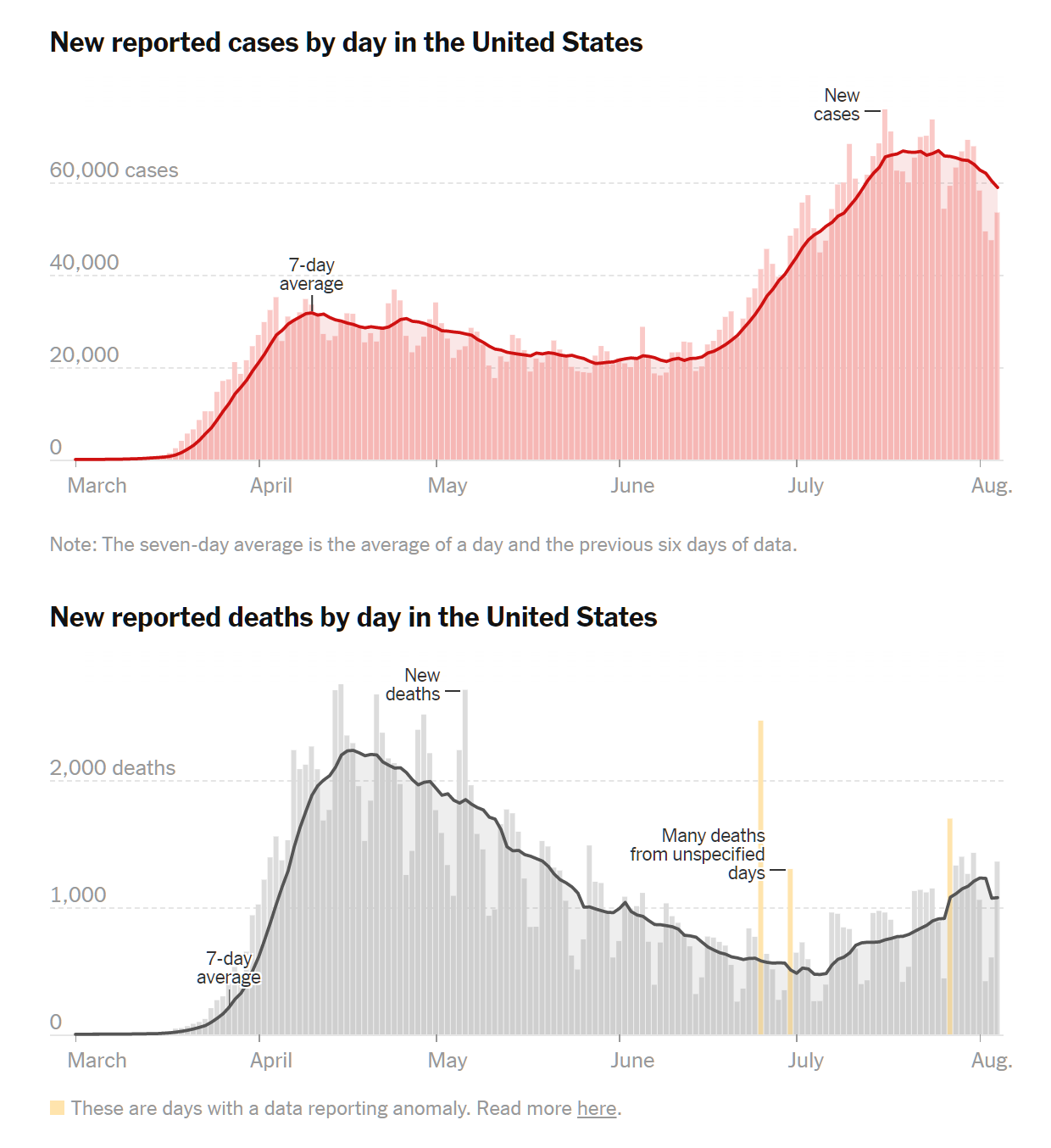 I surely wish that I had been right, partly because I love to be right but mostly because it is sad when a virus is able to kill people.
On June 29 there were roughly 40,000 cases (positive tests). Using Dr. Arron's numbers, today would be roughly when we would expect those who tested positive on June 29 to die. The death rate is about 1,000 people per day. Dr. Arron said it would be 1.8 percent of those who tested positive, which works out to 720.
Other than admitting to being stupid, what is my explanation for being wrong? I have consistently underestimated the power of shutdown. Knowing that Americans, despite a "shutdown", were continuing to meet in grocery stores, marijuana stores, liquor stores, on Tinder (record usage), etc., and having seen Americans wearing filthy bandanas underneath their noses as PPE, I did not believe that we were having an effect on viral transmission.
About two weeks after the post that kicked off this follow-up, I began to doubt my assumptions: "Coronaplague test data show that Florida successfully flattened the curve?" At least in Florida, everything worked the way that it was supposed to, according to the Church of Shutdown dogma, March edition. By sacrificing their children's education, sacrificing their long-term mental and physical health, sacrificing development of work skills, and eliminating their social lives, Floridians actually did push their plague back by a couple of months. If Floridians did it, maybe people in a lot of other states "succeeded" as well. This is a Pyrrhic victory, of course, since the reward is simply prolonging the shutdown and the "war" that we've declared on the virus that we are almost certainly destined to lose. It is also not a "success" as defined by minimizing deaths, since the deaths from shutdown will far exceed any lives saved from slowing down Covid-19.
Could we have done anything differently if we had known that the decline in deaths was simply to a local minimum?
Wear masks more diligently? "The land with no face masks: Holland's top scientists say there's no solid evidence coverings work and warn they could even damage the fight against Covid-19" (Daily Mail, August 4)
Social distance more distantly? Well, people don't bother once they're masked. But, even if they did, what would be the point? Shift Covid-19 infections and deaths into October?
Minimize exposure to crowds, as Dr. Arron suggests? Young people have already given up on this, right? And old/vulnerable people are still in their bunkers.
What is the value of all of these data, aside from proving that Dr. Arron was right and I was wrong?
Related:
Our reward for all of the shutdowns and sacrifices: "One death every 80 seconds: The grim new toll of COVID-19 in America" (NBC) Over the last seven days, a grim new COVID-19 calculus has emerged: one person died every 80 seconds from the coronavirus in America. … The Chicago Public School system became the latest to ditch plans to reopen classrooms to in-person education come September. Instead, the nation's third-largest school system will do what many other school districts are doing and reopen remotely on Sept. 8 and revisit that strategy on Nov. 9. [instead of three months of European-style terrible news from around the whole country, followed by a European-style resumption of normal life, we will perhaps have years to beat ourselves up about this]