Franklin Templeton manages about $700 billion in assets. What does their Chief Investment Officer for Fixed Income think Covid-19 will lead to? Inflation!
Americans still misperceive the risks of death from COVID-19 for different age cohorts—to a shocking extent;

The misperception is greater for those who identify as Democrats, and for those who rely more on social media for information; partisanship and misinformation, to misquote Thomas Dolby, are blinding us from science; and

We find a sizable "safety premium" that could become a significant driver of inflation as the recovery gets underway.
How can a virus drive inflation? I think that her argument is that Americans with money will spend like crazy to protect themselves from the virus, e.g., buying first class airline seats or choosing airlines with blocked middle seats. Meanwhile there will be contraction in supply. We've already seen this in real estate. The rich are spending even more for country estates and for fixing up country estates. It is impossible to get a contractor because they're already hired and the additional workers they might want to hire are relaxing on $600/week (but maybe that will change soon?).
These misperceptions are destroying our economy:
This misinformation has a very concrete adverse impact. Our study results show that those who overstate deaths among young people are more cautious about making purchases, more reluctant to travel, and favor keeping businesses and schools shut.
I.e., the Swedes who gave the finger to the virus are likely to do relatively better than Americans (but we stole a bigger piece of land from the Native Americans than they did, so we might still be richer).
What does the cower-in-place nation look like, emotionally?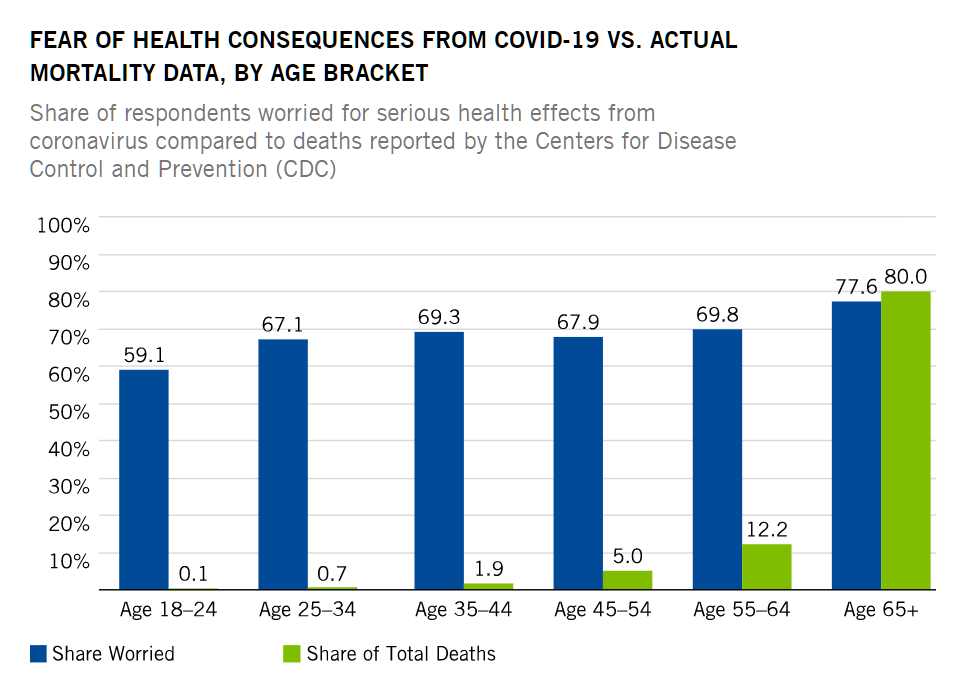 How did the misperceptions arise? Facebook Shutdown and Mask Karens: "People who get their information predominantly from social media have the most erroneous and distorted perception of risk." Traditional media was also responsible, says Desai:
Fear and anger are the most reliable drivers of engagement; scary tales of young victims of the pandemic, intimating that we are all at risk of dying, quickly go viral; so do stories that blame everything on your political adversaries. Both social and traditional media have been churning out both types of narratives in order to generate more clicks and increase their audience.

Stories that emphasize the dangers of the pandemic to all age cohorts and tie the risk to the Administration's handling of the crisis likely tend to resonate much more with Democrats than Republicans. This might be a contributing factor to why, in our survey results, Democrats tend to overestimate the risk of dying from COVID-19 for different age cohorts to a greater extent than Republicans do.
Related: