(those who identify as) White males need not apply… "United Sets New Diversity Goal: 50% of Students at New Pilot Training Academy To Be Women and People of Color":
United Airlines, the only major U.S. airline to own a flight school, will begin accepting applications today as it embarks on an ambitious plan to train 5,000 new pilots by 2030, at least half of them women and people of color. Backed by scholarship commitments from United Airlines and JPMorgan Chase, United Aviate Academy will create opportunities for thousands of students, including women and people of color to pursue a career as a commercial airline pilot, one of the most lucrative careers in the industry.

In addition, for those United Aviate Academy students who may need additional financing, United has partnered with Sallie Mae to offer private student loans to ensure that no highly-qualified, highly-motivated, eligible applicants will be turned away solely because they can't afford to enroll. United Aviate Academy expects to enroll 100 students in 2021."Over the next decade, United will train 5,000 pilots who will be guaranteed a job with United, after they complete the requirements of the Aviate program – and our plan is for half of them to be women and people of color," said United CEO Scott Kirby. "We're excited that JPMorgan Chase has agreed to support our work to diversify our pilot ranks and create new opportunities for thousands of women and people of color who want to pursue a career in aviation."To break down the financial barriers that limited access to the airline pilot career path for generations of women and people of color, United has committed to fund $1.2 million in scholarships. The airline's credit card partner, JPMorgan Chase has also committed $1.2 million to support women and people of color who are accepted to United Aviate Academy."We are proud to partner with United to support the Aviate Academy's mission to enable thousands to pursue their dream as a commercial airline pilot," said Ed Olebe, President of Chase Co-Brand Cards. "Investing in this program directly aligns with our efforts to advance racial equity by expanding career development opportunities and making tangible progress in a field where women and people of color are underrepresented." United will leverage its long-standing relationships with a variety of organizations, including the Organization of Black Aerospace Professionals, Sisters of the Skies, the Latino Pilots Association and the Professional Asian Pilots Association to help identify and steer highly qualified, diverse candidates to the United Aviate Academy.
Looks like those who identify as Asians are "pilots of color" who can get in under this quota-based admissions system. This is good news considering that United has a Black Lives Matter pin for employees, but not a #StopAsianHate pin: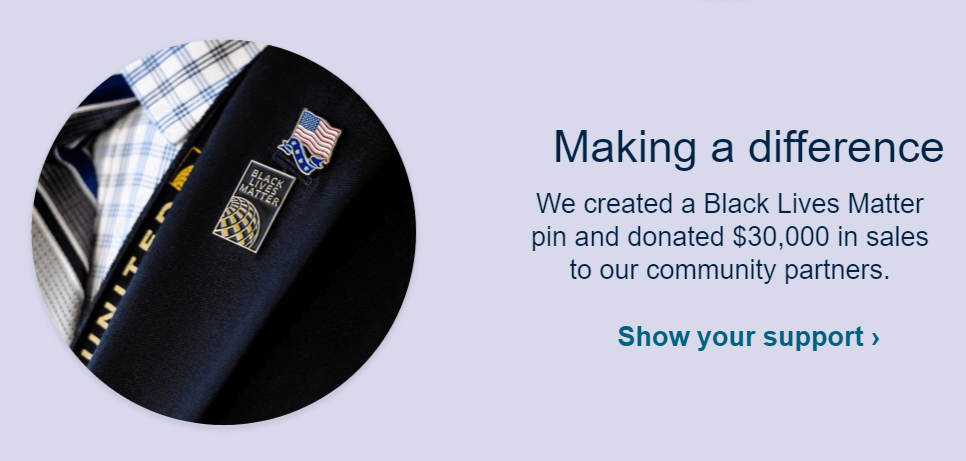 United thought that I would be thrilled to hear about this and emailed me, a loyal Mileage Plus member, this afternoon so that I would be sure not to miss it in the media.

This photo of an executive in the office is a good reminder to wear masks, but if Jessica is concerned about contracting coronavirus, why did he/she/ze/they go to work to begin with? He/she/ze/they is not a mechanic, pilot, flight attendant, or ramp worker. Why can't he/she/ze/they work from home and #StopTheSpread?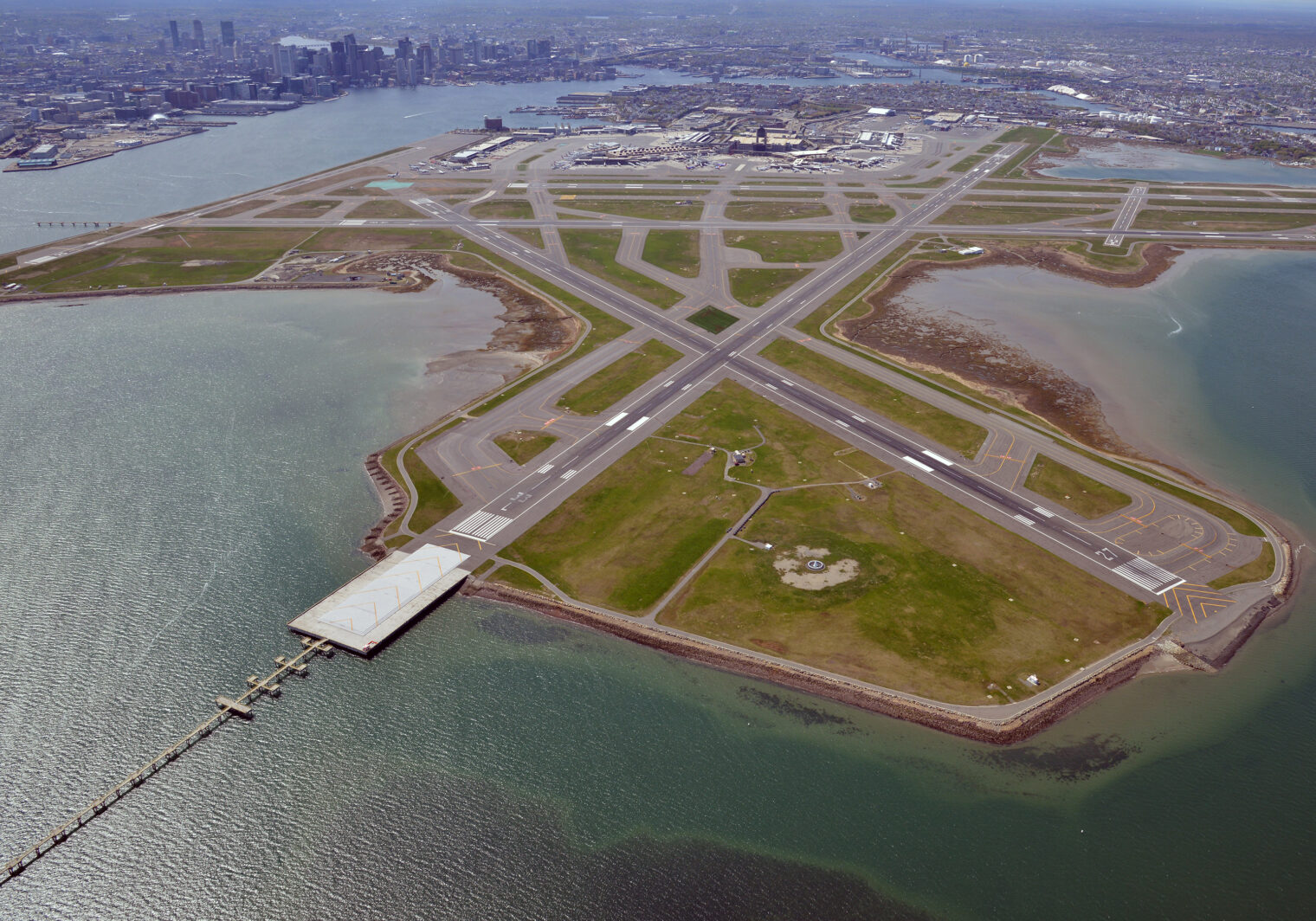 (photo of Boston's Logan Airport by Tony Cammarata, May 2020, from our Robinson R44 helicopter; your humble author at the controls)
Related:
"Pilot Sues Airline For Emotional Distress After Mechanical Failure Led To PTSD" (Plane & Pilot): A former QantasLink pilot is suing the regional carrier to the tune of $780,000 for suffering and damages from a case of PTSD she says was caused by a 2018 mechanical failure of one of the Boeing 717's engines, which resulted in the shutdown of the engine and an emergency landing. … The plane landed without incident, and no one was injured. … She's the first woman of color to wear a Qantas uniform, and she has received numerous awards for her work in aviation. She said recently, acknowledging the recognition she had earned for her historic place in Australian airline history, that her advice for younger Australians was, "People still stop me to congratulate me at how proud they are to see female pilot, let alone one of colour. My response is the same 'Action Inspires Action'—you can achieve your dreams, too. Be the best possible human you can be."
My visual approach, and Asiana's (explains the havoc that a newbie can wreak in airline operations)
once an race-based hiring program is in place, the general public may use it to explain accidents. An ar15.com forum message: "I found the reason for the crash. Affirmative Action hire strikes again." (regarding the loss of Atlas Air 3591, a Boeing 767 lost to spatial disorientation, more typically suffered by novice Private-rated pilots)
A simpler way for an American to obtain the spending power of an airline pilot, from the Massachusetts chapter of Real World Divorce: "There are a lot of women collecting child support from more than one man," Nissenbaum noted. "I remember one enterprising young lady who worked as a waitress at Boston's Logan airport. She targeted three airline pilots, had a child by each of them, and back then was collecting $25,000 in tax-free child support from each pilot. Of course, instead of serving food and beverages, she did have to care for those children."
"United Airlines Fined $49m Over Fraud On Postal Service Contracts" (Simple Flying, February 27, 2021): The DOJ documents states that instead of providing USPS accurate delivery scans based on the shipment of the mail, United submitted automated delivery scans "based on aspirational delivery times." These scans did not correspond to the actual transportation of the mail, as mandated by the contracts. Therefore, since there was no movement of the post, the Chicago-based carrier was not entitled to payment. However, it still secured payments of millions of dollars from USPS.
"United Found Willful in Age Discrimination" (Law Week Colorado)
"United Settles Charges in Case of Flight Route to Benefit Public Official" (U.S. SEC): According to the SEC's order instituted today, United reinstated a nonstop flight between Newark, N.J., and Columbia, S.C., at the behest of David Samson, the then-chairman of the Port Authority of New York and New Jersey who sought a more direct route to his home in South Carolina. … the SEC's order finds that United officials feared Samson's influence could jeopardize United's business interests before the Port Authority, including the approval of a hangar project to help the airline at Newark's airport. The company ultimately decided to initiate the route despite the poor financial projections. The same day that United's then-CEO approved initiation of the route, the Port Authority's board approved the lease agreement related to the hangar project. United employees were told "no proactive communications" about the new route. … The route ultimately lost approximately $945,000 before it ceased again roughly around the time of Samson's resignation from the Port Authority.
database of $144 million in fines imposed by the Federales against United, divided into fraud, employment discrimination ($48.8 million, even though, as demonstrated by this new program, sometimes discrimination is good!), aviation safety violation ($22 million), aviation consumer protection violation, etc.