Yesterday was August 4, 2020, the date on which the IMHE prophecies were supposed to be proven out. Let's see how the reality compared to the June 10 prediction. In "Wicked Brazilians will take the place of the wicked Swedes in forecasts of doom?" (June 13) I noted that 5,248 Brazilians were forecast to be killed by Covid-19 yesterday.
What does WHO say about the actual number? It was 541 yesterday (August 4), 1,088 the day before (August 3), 1,212 on Sunday, August 2, 1,129 on Saturday, August 1., and 1,595 on July 31. Here's my prediction in full:
My perspective is a "scientific" one. In other words, I will look at one or two data points and then extrapolate wildly. From the chart below, it looks like the non-virtuous Brazilians have, by dint of doing nothing, already "flattened the curve" to a large extent. So my first scientific observation (i.e., guess) is that the death rate on August 4, 2020 will be roughly the same as it is today. On the other hand, the virus has already killed a lot of the easiest-to-kill Brazilians. Therefore, the number should be a little lower. On the third hand, General Winter is fighting alongside the coronavirus in parts of Brazil. If the latter two factors cancel out, the number of deaths tagged to Covid-19 in Brazil on August 4 should be 1,274 (the number from yesterday's WHO report).
Summary of the above: prediction of a plateau and therefore 1,274 deaths yesterday. So I'm off by more than 2X for the actual number, but the latest graph from IHME (a smoothed curve) does look vaguely plateau-esque, so perhaps I can claim victory on the shape?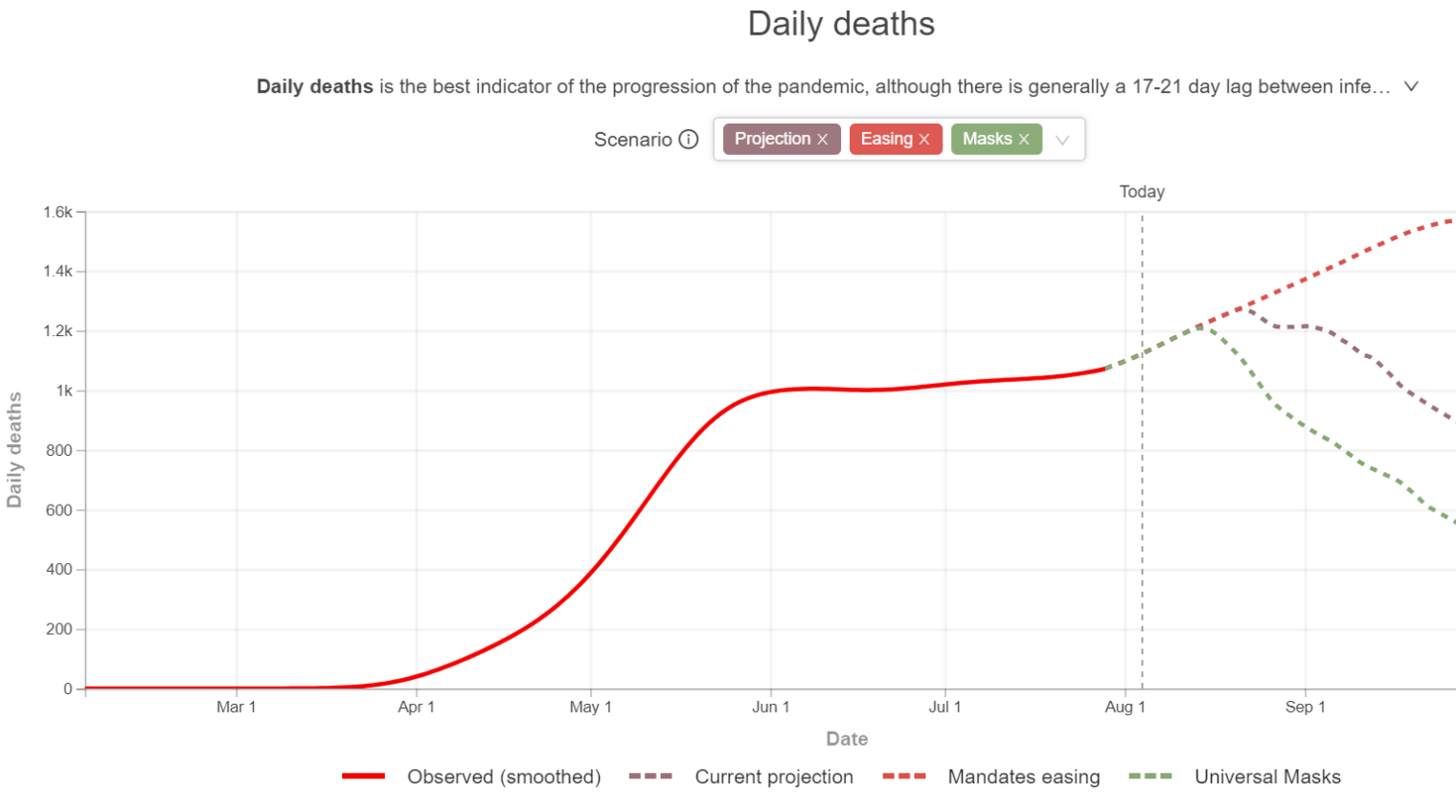 Alex guessed 1,219 following YouYang Gu's model. ajm did an interesting analysis starting from the Diamond Princess data and came up with 1,800. Henry went with IHME, but cut their 5,248 estimate by 50 percent due to his faith in the Sacrament of Masks. Sig came up with a technical analysis approach, as they say on Wall Street:
I think the pattern is quite clear here: after the peak it is a log-linear descent, with always the same slope. No need for science or following news… (Italy has a step there, they probably transitioned to a different counting method.) So, extrapolating for Brazil, which looks like being at the peak, to 130 days, which would be beginning of August in that case, and adjust for population, I arrive at 300 "daily new confirmed COVID-19 deaths". Turns out SK already bet that, so I'll go for 299.
The winner… SK! "My assumption it will fizzle our even more. My prediction is 300. Definitely less than 900."
So… IHME was off by 10X (but maybe only 5X if we smooth the data?). I was off by 2.5X. When is it time to acknowledge that the virus is smarter than we are?
How about the rest of the IHME predictions? Back in April they were predicting 13,259 deaths for Sweden by August 4. The WHO figure from yesterday's report is 5,744 (i.e., off by 2.5X). The same April post carried a prediction of 6,739 deaths for Massachusetts through August 4. That was without the assumption that the state would adopt universal masking. We did mask up and… the actual number was 8,436 (mass.gov).
In late March, IHME predicted 80,000 deaths for the U.S. through August 4, 2020, with a 95% confidence interval of 40,000 to 160,000. The WHO report number is 154,226. So they were off by almost 2X, but not so far off as to call their methodology into question.
Related:
An update of the big chart from the previous post: