From California, one of the world centers of optimism regarding the power of government, via shutdown and mask orders, to reduce, not merely delay, coronavirus infections: "The number of babies infected with syphilis was already surging. Then came the pandemic" (Los Angeles Times). If Californians did what Gavin Newsom told them to do, you'd expect a pandemic to reduce sexually transmitted diseases, including syphilis. It is tough to catch syphilis while staying home and watching Netflix/playing Xbox for 18+ months. But, with the same logic we use for COVID-19 is sure to kill you, but life insurance rates haven't changed and Wave of death among the elderly bankrupts Social Security, we can actually blame coronashutdowns for an increase in sexually transmitted diseases. From the LA Times:
More and more babies in L.A. County have been infected with syphilis in the womb, which can lead to stillbirth, neurological problems, blindness, bone abnormalities and other complications. Nine years ago, only six cases were reported across L.A. County, according to a Department of Public Health report. Last year, that number reached 113.

The numbers were already surging before the arrival of COVID-19, but public health officials fear the pandemic exacerbated the problem, closing clinics that screen people for syphilis and other sexually transmitted infections and putting new efforts to battle the disease on ice.

At the time, she said, she feared that going to a clinic could lead to her being jailed for using meth. "You think, 'I'm going to get in trouble because I'm high,'" she said.

The surge in congenital syphilis has been especially frustrating to experts because the illness can be thwarted if pregnant people are tested and treated in time.

Men who have sex with men have been especially vulnerable, but the accelerating numbers among women and babies have spurred particular alarm for health officials because of the potentially devastating consequences.
Note the use of CDC-approved vocabulary, e.g., "pregnant people" and "men who have sex with men". But then things break down a bit as the article wears on…
In L.A. County jails, eight cases of syphilis had been confirmed among 170 pregnant patients seen as of late August, said Dr. Noah Nattell, who oversees women's health for the county's Correctional Health Services agency.
The sentence starts with "pregnant patients", but falls back to the old term "women" towards the end. The inconsistency continues lower down:
Researchers have found that nationally, not all pregnant people are screened for syphilis despite the urgings by health officials. Even when they are diagnosed, nearly a third of pregnant women with syphilis did not get the care they needed, according to an analysis by the U.S. Centers for Disease Control and Prevention.
The sentence that immediately follows one in which "pregnant people" is used falls back to the discredited term "pregnant women." There is only one author for this article. Why can't Emily Alpert Reyes pick one term and stick with it?
One of the key problems is that, unlike marijuana, methamphetamine hasn't yet been recognized for its medicinal value and therefore remains illegal.
The woman who lost her baby said she started using meth at an overwhelming point in her life, facing the demands of a stressful job, school and a relationship that had grown strained after her earlier struggle to get pregnant.

At the time, the drug felt like "a ticket to freedom." She quit her unrewarding job. Her boyfriend moved out. Meth made her feel brave, "like I could take a deep breath finally."

She started seeing a man who told her he didn't need to use a condom with her, a decision she now sees as naive. After they broke up, she got into a relationship with a friend who would become the father of her baby.

When the waves of pain began to roll over her in a hotel room where she was spending time with her boyfriend, another man and his girlfriend, the girlfriend quickly realized she was in labor and urged them to call 911, she said. But the men bristled at the idea, she recalled, because there were drugs there and they didn't want attention from the police.
Soo… the population that was supposed to be refraining from gathering and using the governor-ordered face masks consistently and correctly is, in fact, spreading sexually transmitted diseases at a higher-than-previous rate, partying in hotel rooms with a miscellaneous collection of potentially infectious humans, etc. Is it fair to say that America's leading public health experts have never met the American public?
(Separately, how effective have California's measures been? In the COVID Olympics, California has a higher COVID-19-tagged death rate than do-almost-nothing Sweden. California initially appears to have had some success, if we're measuring a society's success by this one number, compared to Florida. Adjusted for population over 65, however, California has actually had a higher death rate than Florida, where adults have enjoyed near-total freedom. Could a failure to consider what Americans are actually like be part of the reason that California's aggressive lockdowns and mask orders have had no apparent effect?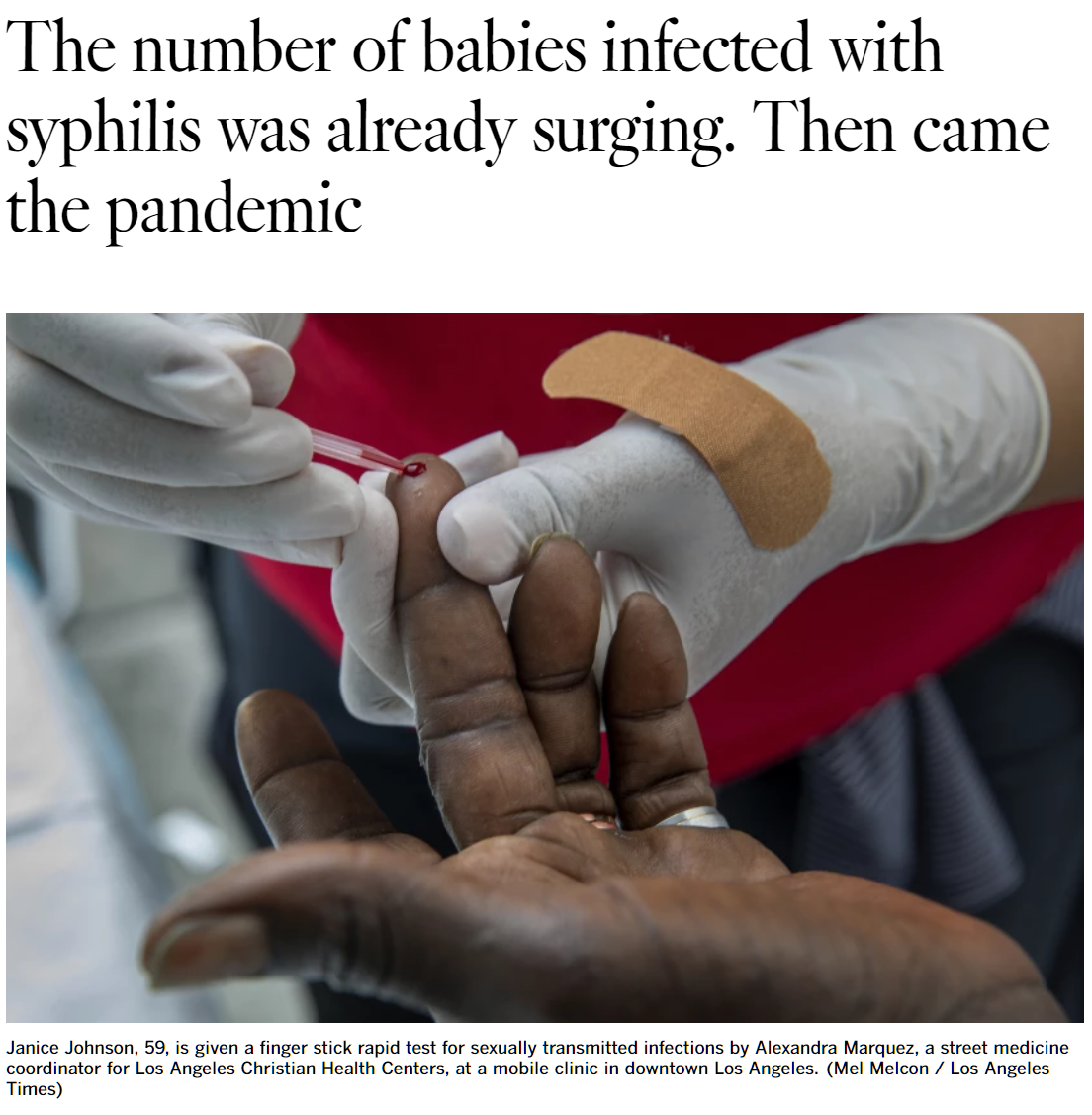 (And let's see how the masks and lockdowns worked in California compared to the #Science-denials of the Florida Free State… from a Stanford Med School prof: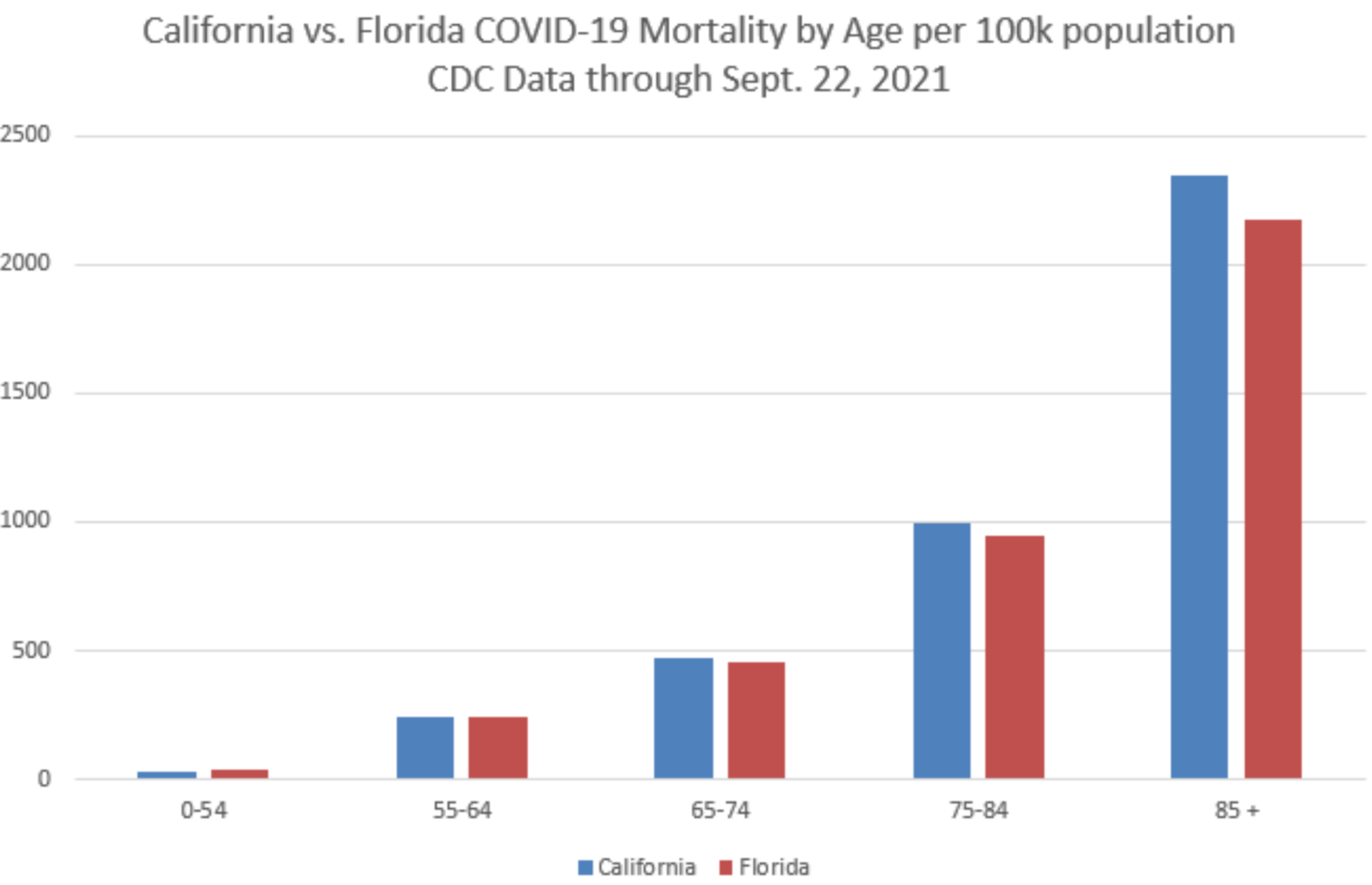 Compared to Florida, California may have a lower cumulative death rate tagged to COVID-19, but that is only because the population is younger (free and/or subsidized housing available only to those with children apparently encourages "pregnant people" to have babies and become "lactating people"!). For a given person of a given age, the risk of dying from COVID-19 was actually lower in Florida.)
Full post, including comments