"As Crises Mount, Europe Turns Once Again to Big Spending" (NYT, today):
Nationalizations. Subsidies. Cash handouts. Price caps. Profit taxes. It's back to 20th-century economics in Europe.

Governments are resorting to old-school solutions, long dismissed as bad policy, throwing vast amounts of money at the energy crisis engulfing the region, in a bid to avert a political, social and economic meltdown.

In response [to rising energy prices], E.U. governments have already earmarked more than $350 billion to subsidize consumers, industry and utility companies; ministers are to meet on Friday to finalize the bloc's direct intervention in markets to grab excess profits, cap electricity prices and subsidize utilities companies.

The huge public spending is in addition to a nearly trillion-dollar stimulus package adopted over the past year to deal with the economic fallout from the pandemic, mostly through borrowing. The ballooning debt load would have normally caused an uproar in the bloc, where fiscal conservatism has dominated policy and politics for years.

"This is clearly an exceptional and one-off situation," said Daniel Gros, a German economist and director of the Centre for European Policy Studies, a Brussels-based think tank, who normally takes fiscally conservative positions. "It's different from increasing unemployment or social benefits structurally forever, and it's a special situation that won't last forever."
The last paragraph is my favorite. Coronapanic was exceptional, so borrowing/printing and spending $1 trillion (amateurs! the U.S. spent $10 trillion) in 2020/2021 was okay. The rise in energy prices is 2022's exceptional event, so borrowing/printing and spending another $1 trillion will also be okay. The end of the paragraph is also interesting. The U.S. actually did make "structurally forever" changes to the American welfare state, already the world's 2nd largest (percent of GDP), the free-forever broadband benefit for those who choose not to work and King Biden's forgiveness of student loans previously owed to the Crown. According to the Germans, therefore, we are headed for disaster.
Eurocrats seem to think that voters won't notice the subtle inflation tax caused by these programs and/or future standard tax increases. They're paying subjects with their own money:
The Belgian government has handed out $100 to every household irrespective of income.
This is a fascinating example of human psychology. Europeans will eventually have to pay for all of the energy that they're consuming in 2022 and they'll have to pay the 2022 price. But they're going to be happier paying starting in 2023 if the government gives them a Three-card Monte game to watch in 2022. And they'll be happier getting a pay cut via inflation than getting a pay cut in nominal euros.
What's non-EU-member Norway doing, other than getting insanely rich from the war in Ukraine? The nation's hydroelectric power is being sold at record prices to the rest of Europe. The oil and gas wells are producing unprecedented gushers of money. Consumers have to pay higher prices for natural gas, but the government steps in and pays, using the record revenues coming in for oil and gas, 90 percent of the amount over a set price. Cruise ships that formerly stopped in St. Petersburg now come to Oslo for two days per sailing, paying enormous port fees and buoying the local tour operators.
"The problem with socialism is that you eventually run out of other people's money," said Margaret Thatcher. Norway has amended this to "The beauty of socialism is that you never run out of the dinosaurs' money".
Here are some of Oslo's gleaming new waterfront neighborhoods next to the gleaming new Munch Museum: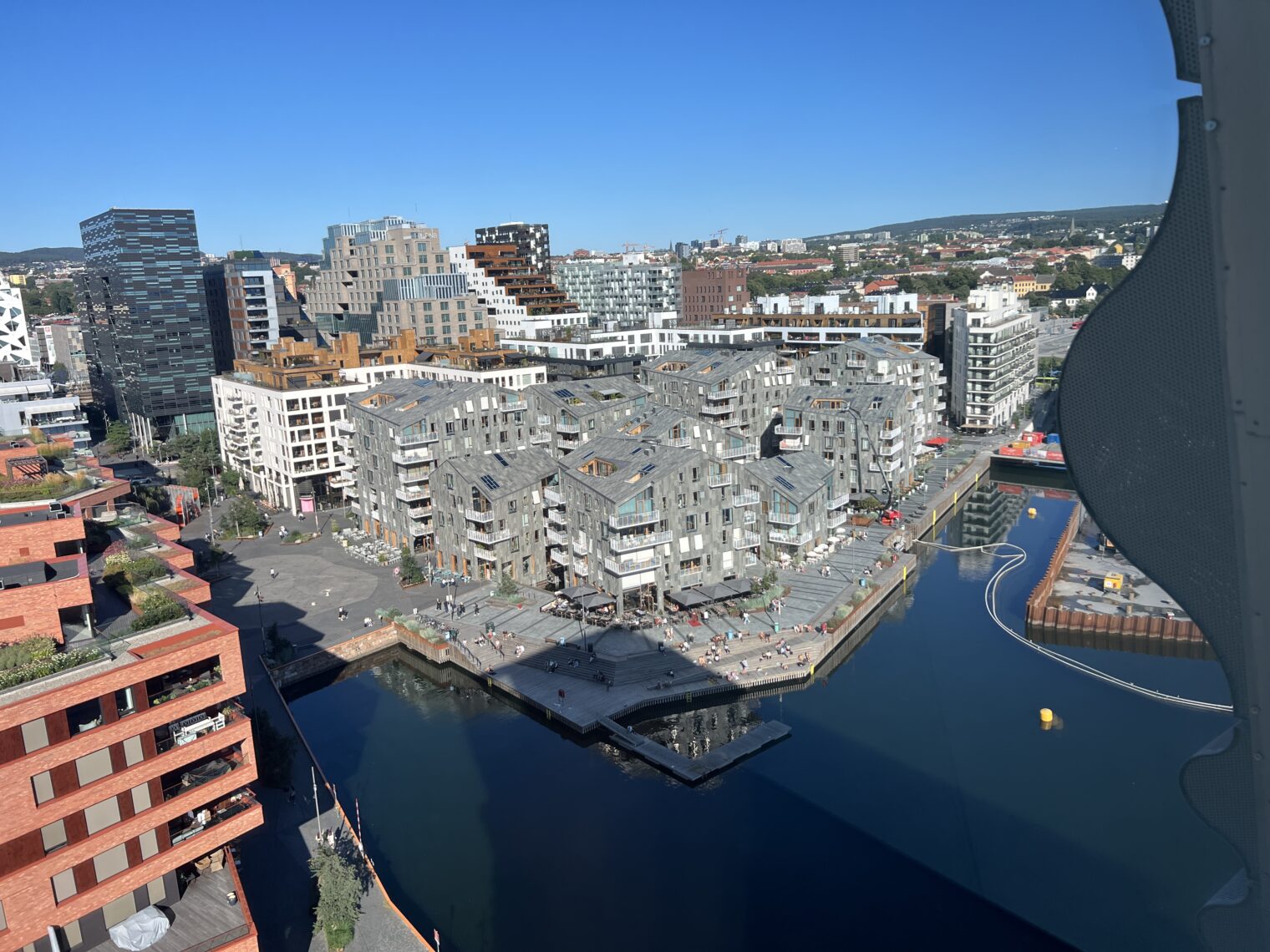 Full post, including comments